Ornette Coleman at Battery Park
The Bell Atlantic Jazz Festival has already been in full swing for a month, opening in Washington D.C., and playing Philadelphia and Boston. Tonight the festival opened in New York simultaneously at seven locations around the city, including at an enormous portable stage erected at the east end of Battery Park, near the posh American Park Restaurant. Here, at a pre-concert reception, performers, media, staff, and funders were welcomed with open bar, crudites, crackers and cheese, butler-passed hors d'oeuvres, a quartet improvising masterfully on recognizable standards, an "internet cafe" (four computers you could play with, but no one did), speeches by Michael Dorf, founder and executive producer of the Knitting Factory, and by Bruce Gordon, president of Bell Atltantic. Ultimately, we were also presented with a gift bags containing festival programs, festival t-shirts, festival commemorative CDs, festival commemorative pens, festival commemorative packets of trail mix, and festival commemorative loops of webbing with a clip attached, which look like the item saxophone players wear to support their instruments from their necks, but maybe is used to hold your house key when you go jogging. "We take care of our people," beamed the staff member who handed me my gift bag. But the best gift was not in the bag--free seats for the concert, close to the stage.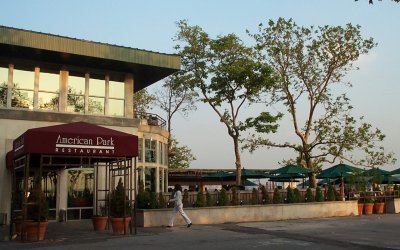 The restaurant overlooks the Hudson River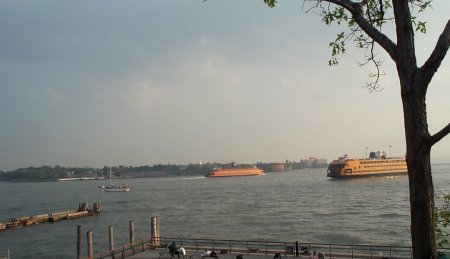 From the second floor of the American Park one can see and hear
the Staten Island ferries arrive and depart from the landing next door...
...and, in the distance, glimpse Lady Liberty welcoming the tempest-tossed.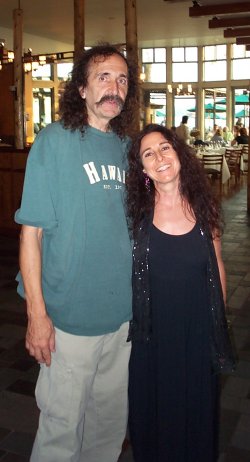 Tonight we are stepping out!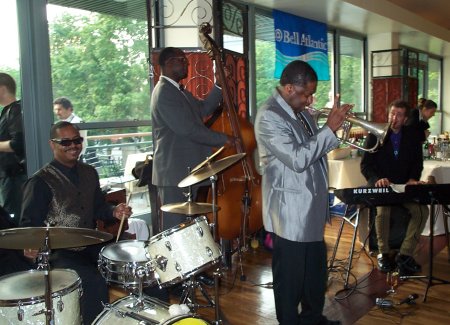 We enjoy the band, and marvel that, in a room full of supposed jazz fans
and professionals, everyone is talking while they play.

Our friend, and Joe's intrepid agent, Charles Blass, arrives by bicycle.
Charles is the music coordinator for medium4.com, an on-line radio station.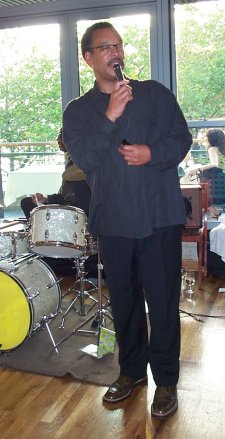 Bruce Gordon, president of Bell Atlantic Telephone
makes a welcoming speech to officially open the festival.
Bags in hand and wearing our VIP seating stickers, we made our way past the back stage to our concert seats. On this warm spring evening by the river, the tall sycamores were full of fresh leaves, the light lingered until nine o'clock, and nearby constuction workers employed by the city jack-hammered into the wee hours, to the alarm of the festival attendees. Ornette responded by including the city noise as part of the pieces, most notably (ahem) by responding to the horn of the Staten Island Ferry with a bass blast on his own.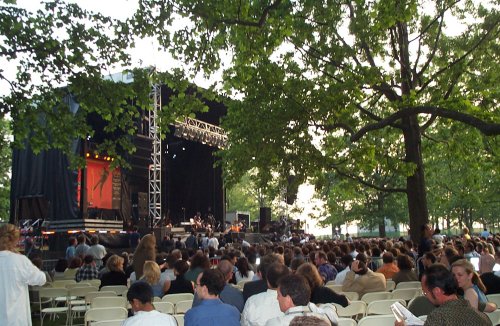 View from our seats of the concert stage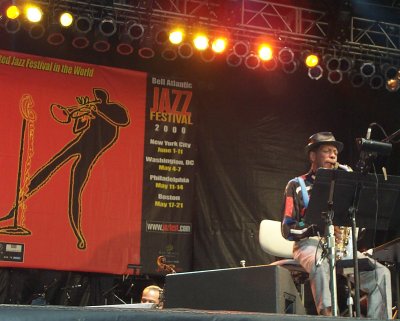 Ornette Coleman with Global Expression Project, the first of his three ensembles
Ornette offered his music in three separate ensembles--first, a series of pieces combining avant-garde jazz with that of musicians from India, including Badal Roy (tabla), Sultan Khan (sarangi, a bowed instrument), and Probaker Karaker (classical Indian vocalizing), along with Charnett Moffett (bass) and Ornette's son Denardo Coleman on drums. Next came an ensemble of twenty symphony players, without Ornette, performing a suite of his compositions. Last, we heard Ornette's famous trio from thirty years ago, including Charlie Haden on bass and Billy Higgins on drums.
After the concert, we joined the crowd at the stage door, where Joe was embraced by his old friend, Ornette Coleman, and chatted with two drummers, Horace Arnold (who worked with Chick Corea), and Will Calhoun (who worked with Living Color).
The performers greet the crowd at the stage door.
That's drummer Billy Higgins in the black beret and vest.
Three drummers share a laugh: Joe Gallivan, Horace Arnold and Will Calhoun.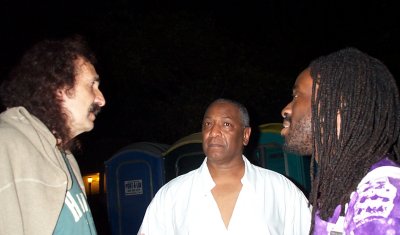 Joe tells a story.
I had to include this second shot, having missed Will's face in the first one.