Hygeia Center in Manhattan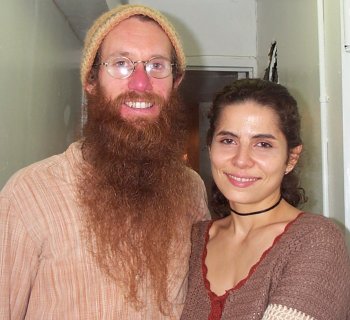 Naturopathic doctor Christopher Yashpal Jayne and Center Founder/Director Narda Narvaez
Beautiful Narda Narvaez spent years learning half a dozen complex approaches to natural healing, and hatched a dream of founding a school that would offer these and others to people in search of a healthier community. Hygeia Center opened last February in the white-washed basement of a building that is exactly where Madison Avenue ends, which seems entirely appropriate. In addition to her training as a physical therapist, hypnotherapist, iridologist, and physiologist and her three years studying shamanic practices in the Amazon, Narda has focussed deeply on something called Lifefood Nutrition and Cell Rejuvenation Lifestyle Therapeutics, which, I believe, means she eats a diet entirely comprised of raw vegetarian foods and she heals others by recommending the same. Radiant and serene in the midst of frantic, filthy Manhattan, she is a walking advertisement for her practices.
Christopher is a visiting lecturer based in Port Townsend, Washington, who has joined forces with Narda. They are talking about living at a healing center with a hot springs outside of Ashland, Oregon. They invited me to visit, and I accepted gladly.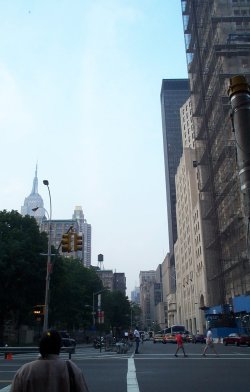 Looking north from the door of the Center up Madison Avenue
A caucaphony of signs looking west on 23rd street from the door to the Center
On the front door of #18 E. 23rd Avenue hangs the event poster with my press photo
That's my guitar case and brocade backpack, which I set down to snap the photo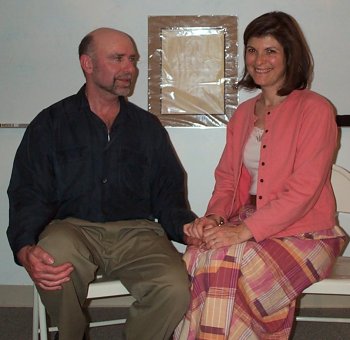 First to arrive were Steve McGee and his adorable wife Ellie.
She says she is a dyed-in-the-wool New Yorker who has never lived anywhere else.
I met Steve at Wheeler Ranch in 1969, when I was writing my book.
I learned many of his songs there and, later, on Maui.
I begged Steve to bring his guitar and sing those songs with me again,
which he graciously did. Great fun!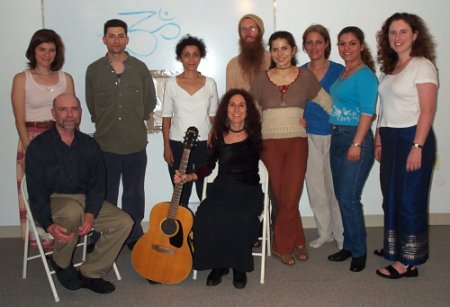 It was an enthusiastic and loving group. Charles Blass brought a video camera,
shot my show and interviewed me afterward, and plans to edit and air it as a program through
Medium4.com, the internet TV network of stations with which he works.
I will apprise you of when and where to see it when it is aired.