Lunch at Einstein's
Esther Silverstein Blanc abandoned her physical plane manifestation a little over two years ago, but her presence is felt by many, most strongly in the eastern Sunset District between the University of California, San Francisco, where she taught, and Golden Gate Park, where she walked, and most especially at 1464 Sixth Avenue, which is now somebody else's house. Her son, Michael, a computer tech, still resides nearby, and his eighteen year old daughter, Elena, lives only a few blocks away with her boyfriend Jeff. I hadn't seen Elena since December, 1996, during which time she changed from an unbelievably precocious fifteen year old who stayed up all night translating books into French for fun, but resented being saddled with babysitting twin baby siblings, to an ageless woman who manages a jewelry store, cohabits amicably with a young man who appreciates her wit and independence, and enjoys an egalitarian friendship with her mother.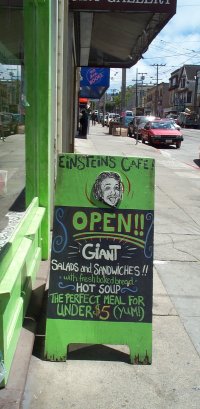 I met Elena at the flat she shares with an undiscussed number of roommates including her young man. She suggested we walk through Golden Gate Park to her favorite source of cheap high quality eats, Einstein's Cafe, on Ninth Avenue just south of Irving Street.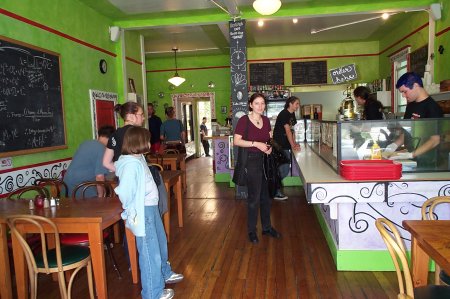 Elena waits while a lad with blue hair prepares her sandwich
Einstein's is a fundraiser for a home for run-aways, and it is staffed by these same kids. The atmosphere is fun, the portions huge, especially the slices of whole wheat bread, which is baked on site in enormous loaves. Seating is indoors or out in a redwood shaded yard in back.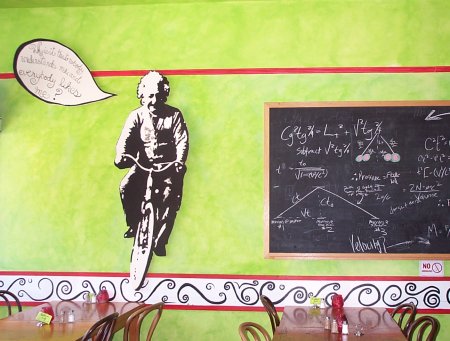 Einstein on his bicycle, depicted saying "Why is it nobody understands me,
but everybody likes me?", next to a blackboard covered with theorems.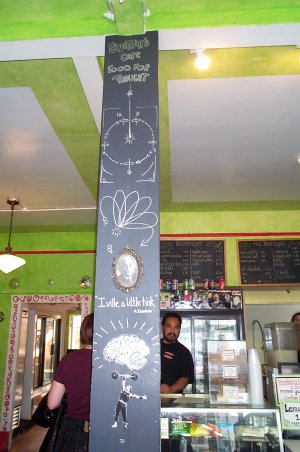 Central post says "Einstein's Cafe--Food for Thought"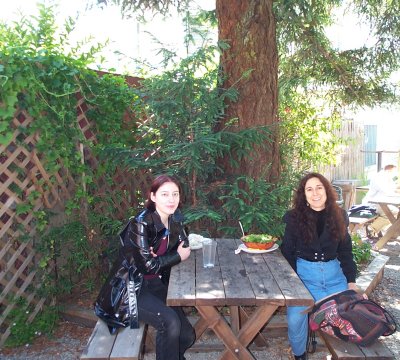 Elena and I take our meal at a picnic table in the back garden under a redwood tree.
We walked back to Elena's in time for her to change outfits and grab a ride with me downtown to her job. Later in the day I walked from my lodgings to Ramon and Judy Sender's house, a few blocks away in Noe Valley. Along the way I saw this wonderful house with a mural on it: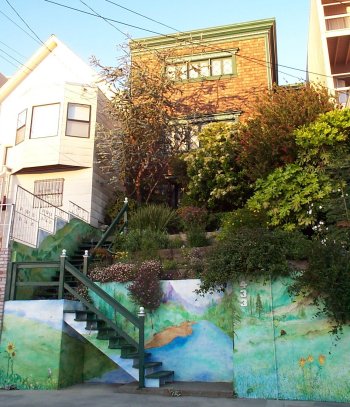 Ramon and Judy renovated their Victorian house with the idea of selling it and moving to Sonoma County, but then fell in love with the renovated house. Not long after, Ramon was offered an administrative post at the Noe Valley Ministry, which is within easy walking distance, and, most of the time, he says, is fun. The church building harbors concerts, workshops, classes, meetings and a pre-school, in addition to the regular Presbyterian church services.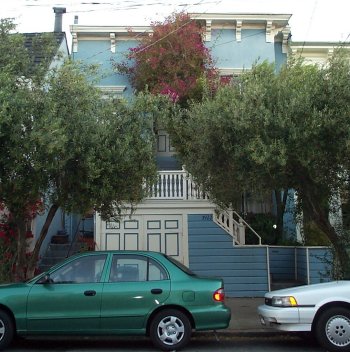 Ramon and Judy's Victorian House
I offered Ramon the opportunity to hear Joe's CDs. Ramon bombarded me with amazing artifacts--the diary of a young girl who had lived at Wheeler Ranch when I did, although I did not know her, a book of his wife's poetry, all handlettered, a serious book by an Indian guru on worshipping the sun, promises he will e-mail Delia's master's thesis on social strata within the commune setting, as well as information on not-for-profit fundraising and where to get Books On Demand printed. Judy showed me one of Ramon's youngest son Sol's paintings, several of Bill Wheeler's watercolor paintings, and revealed that she and my mother have more friends in common than I had previously thought. I love their collections of folk art, baskets, books. We order in Chinese food from a restaurant two blocks away. The vegetables are very fresh. Suddenly, it's eleven already; we all yawn and hug goodbye, and Ramon drives me back to my lodging.