Book Passage in Corte Madera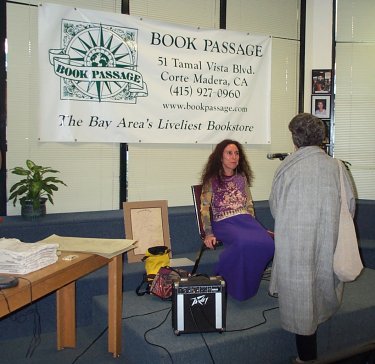 I wore my new shirt from Haight Street for the booksigning
Ensconced in a large, light and airy room, almost entirely surrounded by windows, Book Passage offers a colorful selection of book-related gift items as well as a formidable selection of books and periodicals, plus a cafe wherin to peruse one's finds. The books spill over into a second storefront in the same shopping center.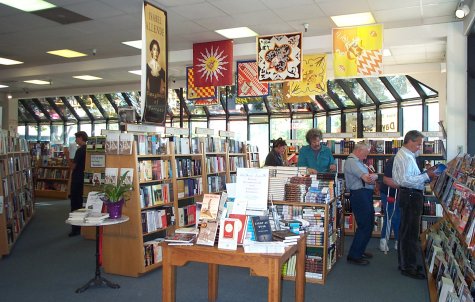 I had a good time with this audience, which included Sam Matthews, the project manager of my book's publication at The Bookworks in its original edition. I also met Carolyn Wolf, a friend of Charles Blass from New York, and Sally French's cousin. Afterwards, Katherine, the coordinator for the event, presented me with a box of cards and envelopes personalized in the same brown ink as the book--perfect for enclosing with gift copies.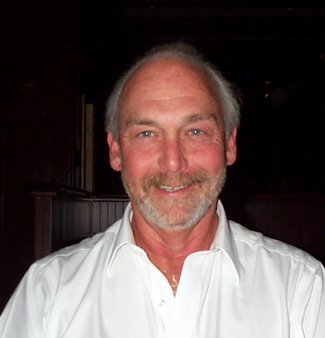 Sam Matthews, thirty year friend and collaborator on
the original book design of Living On The Earth.
Sam and I broke bread at the Savanna Grill next door to Book Passage and reminisced. The original tan cover stock Sam selected because it was used on government agricultural pamphlets. He chose the eighty pound paper, Karma Coat, for its high opacity, rough surface and warm color, all due to its high bark content. I find this hard to believe, but there was even a point at which Sam had to talk me out of wanting to get the book typeset. Sam personally found the investor for the first edition, Charles Kallender, who put up $11,000 to print 10,000 copies. As if all this weren't enough, he put me up in the apartment he shared with boutique owner Daric Jerome in the Castro District of San Francisco for a year while the book was prepared for press. As rent, I let him commute to work in the gold Mustang I had bought from my mother's boyfriend. "I fell in love with that manuscript as soon as I saw it," he told me. "It grabbed me. There was no way I would not get it published."
As a young hetero female artist, I perceived my status as a sort of mascot among the brilliantly creative and beautiful men that comprised Sam and Daric's circle. I found myself constantly awed and inspired by their homes, clothing, parties, and projects, and relieved not to be subjected to boy-girl games when I openly expressed my admiration. Not that they did not tease me--the first time I returned to Sam and Daric's apartment after being out all night, Daric sniffed,"Don't tell me--you FOUND a gorilla."
Today Sam works as the printing coordinator for a company that makes credit cards, and he has managed for the last twenty-five years a fabulous oceanfront estate in Stinson Beach for a woman interior designer who is now ninety-three. He travels frequently, edits and manages freelance book projects, and even managed to study and be certified in massage. He has visited me several times during my twenty-five years in Hawaii, the most memorable being when he arrived with a friend dying of AIDS. Sam rented a yellow convertible and an oceanfront condominium, and the two of them took in every vacation activity within Lee's available energy expenditure, including an historic performance of the Tolentino family choir at a King Kamehameha Day celebration in Kaanapali. To have met Auntie Clara Tolentino during one's life is a very great blessing.