Visiting Salli Rasberry
Salli Rasberry's first book, Raspberry Exercises, a best-seller she self-published the same year my first book saw light,described how she started an alternative elementary school for her daughter. "Today they call it a classic," she giggles. So are her business books, The Seven Laws of Money, Honest Business, Marketing Without Advertising, and Running A One Person Business, which is about to go into its third revision. She co-authored an excellent book on creativity called Living Your Life Out Loud, and is wrapping up a new one called The Art of Dying. She writes with a humor somehow sly and naive at once, and she is the same in person, only moreso, because her facial expressions and body language move from graceful to slapstick seamlessly. In a book bio: "My friends call me Eco-Babe."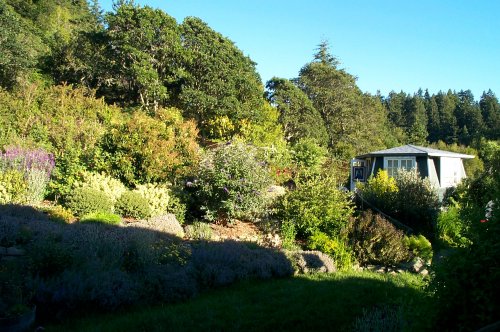 Salli Rasberry's hexagonal writing room, in the midst of her garden
We met in the early 'seventies around the commune scene and have numerous memories in common. My favorite is a walk through Haleakala Crater with her and her then swain, the Rev. Laird Sutton, who made educational sex films for the Glide Foundation, part of San Francisco's Glide Church. They were working on a film called Visions Of Rasberry, depicting her various sensous fantasies, none of which were overtly sexual. One of her fantasies was to dance naked in a volcano, which she and I did, surrounded by a remote and dramatic lava structure, while Laird filmed.
Shortly after the completion of the film, Raz flipped into another facet of her being and became a sheep rancher's partner who spun and dyed her own wool and made hats and scarves, of which I have one of each. She organized a major community fundraiser when a tree fell on a neighbor's house, paralyzing its owner. She worked on organizing a hippie museum. And she made herself available for spontaneous fun whenever it presented itself.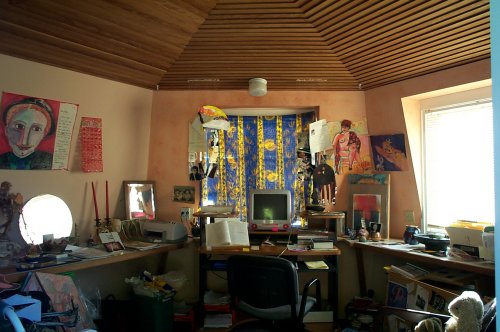 Inside her office
She and her partner of over ten years, building contractor Michael Eschenbach, created a haven overlooking the tiny historic town of Freestone, just west of Sebastopol. She helped pour the foundation and raise the timbers. Michael told me today that he cans fruit from their trees each year, and, at dinner, they opened a precious jar of his apple-berry butter. Back to the land plus two full-on careers. Yes, it can be done.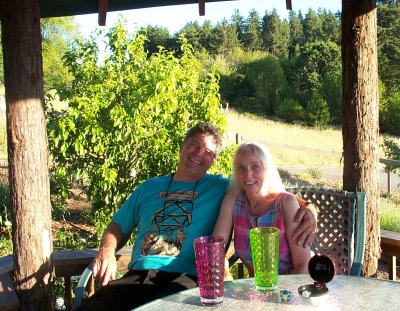 Michael Eschenbach and Salli Rasberry in their garden gazebo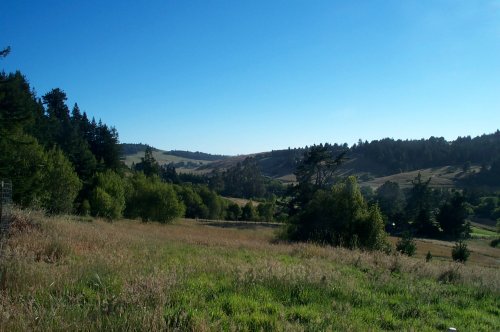 The view west from the gazebo
Today the house is aeriated with the pattering of grandchildren Miles Dylan, age 7, and McKinley, age 3, who live with their mother, Salli's daughter Sasha, in the cottage Michael has built for them on the property.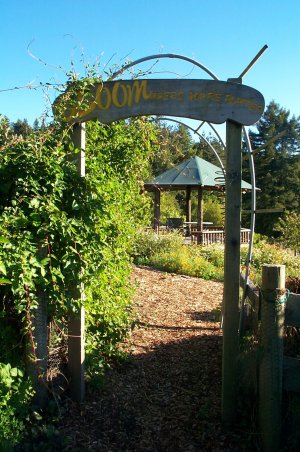 "Bloom where you're planted"
Their homebuilt house seen from the garden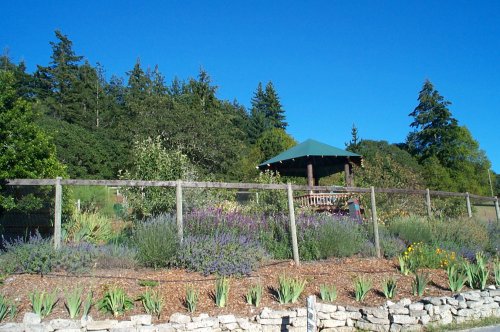 The garden seen from the driveway
Raz's personality appears again in the
sly/naive objects on her veranda.