I Give A Workshop
I prepared xeroxed class notes for my students of my Weight Control class, figuring that most would appreciate not having to take notes and not forgetting what I said later. The notes functioned as a skeleton for my nearly two hour talk, and many of the fifteen attendees wrote additional notes on the pre-printed ones. The questions were lively, and the students enthusiastic about the material. As a maiden voyage as a workshop leader, I would call it a success. One of the attendees was Treasure, the buyer for the Harbin Hot Springs Bookstore; she ordered CDs from me, and will order my books from Book People.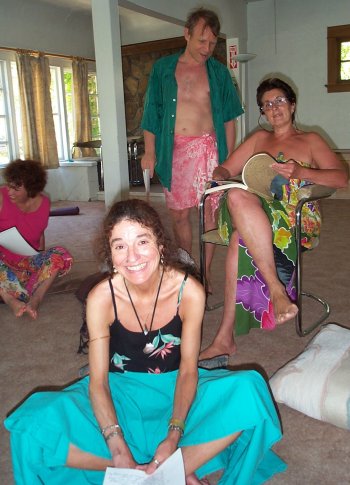 In the forground is massage therapist Christina Mickel, who I
had not seen since 1984, behind her is the wonderful doctor
who was married wearing blue jeans he embroidered with my
illustrations, and seated is Treasure, book buyer for Harbin Hot Springs.
I am meeting so many old friends and people who know people who know me somewhere else, that I am remembering a term I used to use for places where bohemians go: the Machu Pichu Trail. Skip Stone made a list of them in his book Hippies from A to Z. Sort of like that adage about sitting in a cafe in Paris you'll eventually see everyone you know...Bali, Amsterdam, Yalapa, Goa, Ibiza, Santa Cruz, Harbin Hot Springs...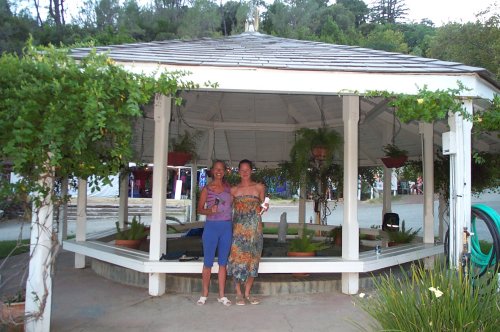 For example, here's singer Iris Lambert and her daughter Glory.
I haven't seen Iris in nearly twenty-five years. In between, she had a family.
Now they're all grown up. Behind them is a fountain under the gazebo
that has served as the central focal point for the resort for nearly a century.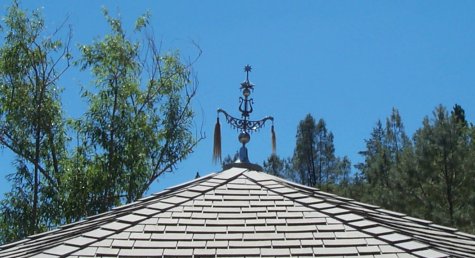 On top of the gazebo stands a Victorian ornament complete with lyre and two tassels.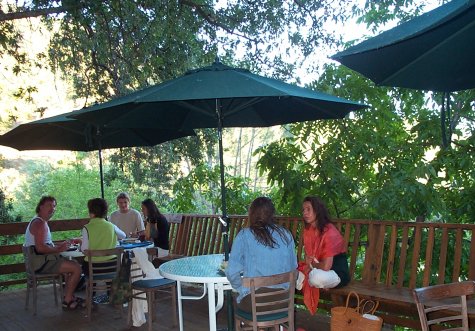 I had supper (green salad with anchovies and grated free range goat cheese)
on the deck outside the Harbin Restaurant, with sunlit hills behind us to the east.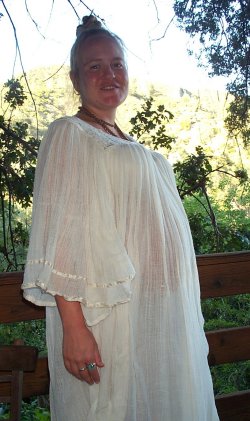 I dined with Janelle, six years on the staff at
Harbin and one month short of delivering a baby girl.
Her husband Michael is half Black Foot Indian and
("miraculously" says Janelle) makes a living making
traditional American Indian crafts.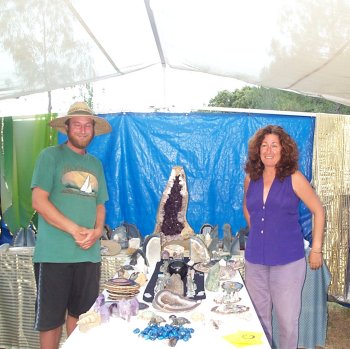 Jonathan Bartky travels each summer selling semi-precious stones.
He assembled a magnificent display of crystals in one of the merchant tents.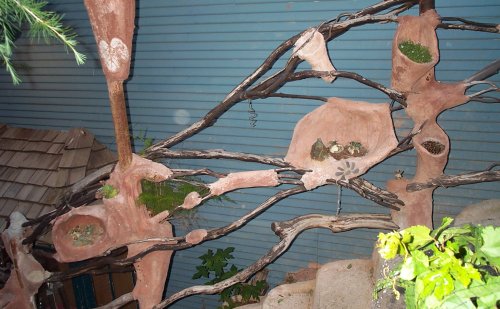 I was intrigued by the blend of early twentieth century architecture and late twentieth
century folk art that characterized the grounds of Harbin Hot Springs.
A highly sculptural ceramic and metal staircase bannister on the way down to the Harbin General Store.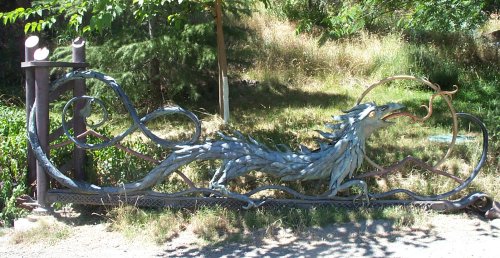 This magnificent metal dragon gate, with eyes and mouth that glow in the dark,
demonstrates the skill of metal sculptor Mark Nichols, who lives in a neighboring town.
He also created the organically flowing railings in the very hot bath temple.