Copperfield's Books in Sebastopol
If Living On The Earth has a home town, this is it. Copperfield's is the nearest bookstore to the site where the book was born, Wheeler Ranch, about fifteen miles to the west in the coastal hills. Accordingly, I had no trouble finding local media people who were willing to interview me, and three did. The write-ups brought in a standing-room-only audience, including lots of old friends, and lots of new friends with old books.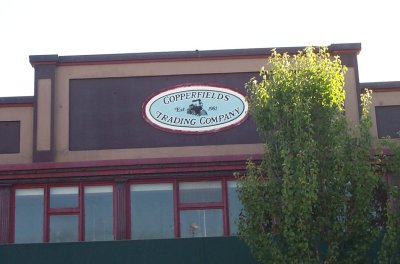 The melodiously-colored facade of the bookstore...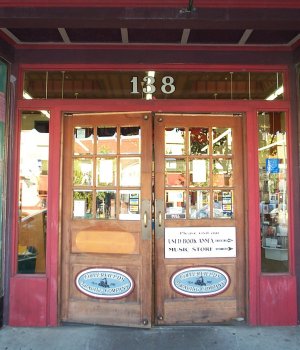 ...and its equally Dickens-era doors.
Jane Love, the event coordinator for Copperfield's in Sebastopol, buoyed my enthusiasm for the tour in its early planning stages last September by assuring me she thought I would attract a large audience at Copperfield's. I wish she could have been there tonight to see how right she was, but family obligations led her elsewhere. Nonetheless, Brooklyn, a charming young red-headed woman working at the store, managed the event with aplomb.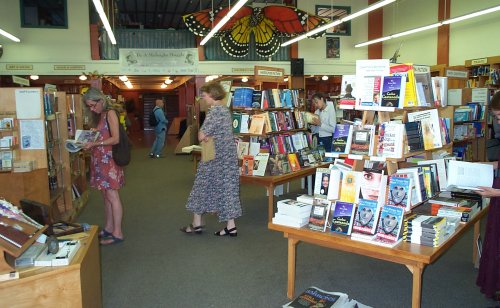 Copperfield's is a busy, cheerful store on the main street of town
Every event calls forth a different set of stories from me, although certain stories are central to the overall tale of the two editions of Living On The Earth. This crowd liked to laugh, so I let my wackiest stories fly. We all got high.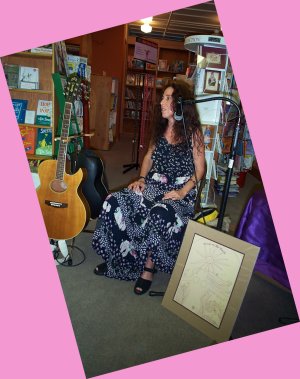 At the end, I told everyone I was writing a new book called Living On The Road: Bohemia at the Millennium on my web site, and I photographed them to be in it. Here they are: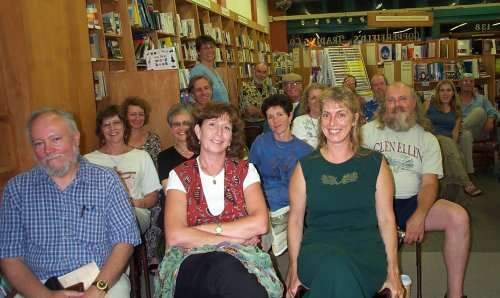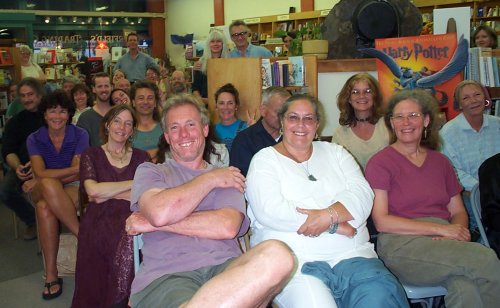 Afterwards, I signed new and old books and visited with the people who brought them. Many wanted to share about the intense love they felt for this piece of art and what it meant in their lives. That kept others waiting long to have their copies signed, but all were patient.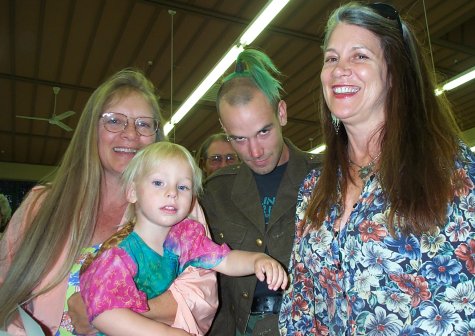 Grace and Suzanne Bartlome had been my neighbors in Hana, Maui, in the 'seventies.
Suzanne's son Kanoa, the gentleman with the fabulous green hair, had looked then
much the way his cousin Keenan looks today.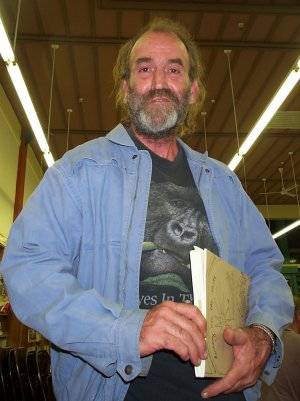 A Wheeler Ranch compatriot, known to us then as
Baker Bart for his amazing whole grain breads, told me
that he had been working on a book of stories.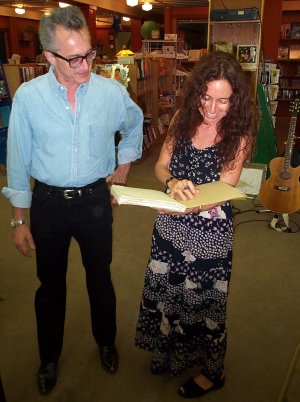 Cliff Lang was the local rock star of Wheeler Ranch,
and still writes, performs and records in Santa Rosa. He produced
a rare first edition copy of the book that I had given him in 1970,
into which he had inserted important memorabilia, including his son's
earliest art and his own birth certificate "like a family Bible", he explained.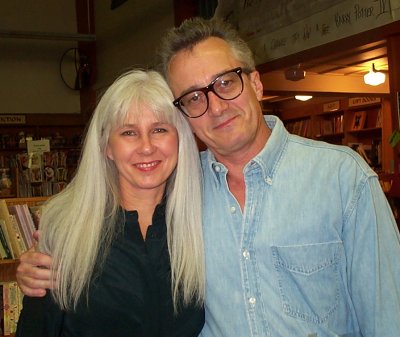 Cliff introduced me to his partner, Mary, a vocalist.
She had my book back in the 'seventies as well.
There were more. Steve Fowler, long ago of the San Francisco Mime Troup, and more recently of the Occidental Community Choir, who sent me the tape of the choir rendition of "In The Morning" for my CD, was among the celebrants. Linda Kane drove all the way in from Sonoma for the event, and Christina Mickels drove in from Lake County. Jonah Raskin, who interviewed me the week before, came again to see me, and Karin Lease came with me in my car to the event and took pictures of me from the first row. "That rocked," she told me afterward. It really did.