Mendocino Book Company in Ukiah
Karin Lease said she is getting Empty Nest Syndrome as I gather up my herd of suitcases and boxes from her living room floor. As she bids me Godspeed, her sense of humor shines throughout. She is a Gemini. Kisses to you, Karin!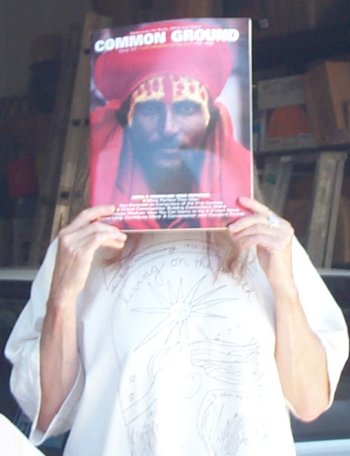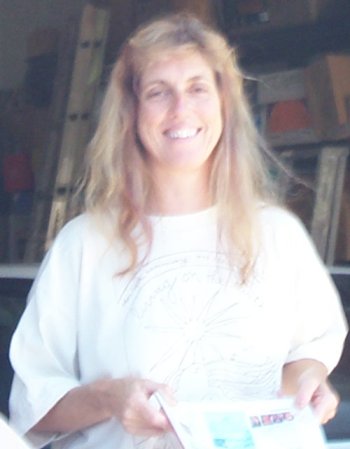 The wide Sonoma County valley gives way to a wilder hill country as Highway 101 winds into Mendocino County. A mountain valley opens before me, with Ukiah at its center. I follow Susan Sparrow's directions to the Mendocino Book Company, unload my musical equipment and merchandise, and meet Ann, the owner, who was born the day before I was, the same year. Taurus, Earth Ox: Born to plow. We laugh.
I continue following Susan's e-mailed directions up into the hills to the east of Ukiah, and look down upon the valley.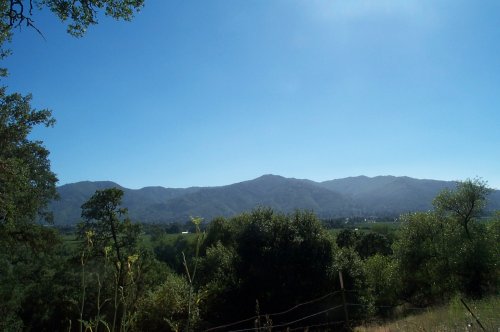 Authors/publishers/writing teachers Hal Bennett and Susan Sparrow make me welcome in their home. Two little laughing, barking Maltese bounce around my feet. I visit a little, pet the pooches, stack my office equipment and personal effects in Susan's office, next to the guest bed, and head back to the bookstore.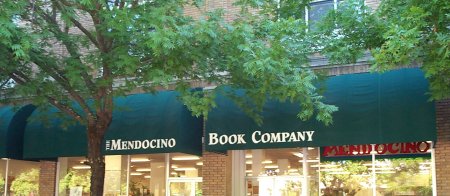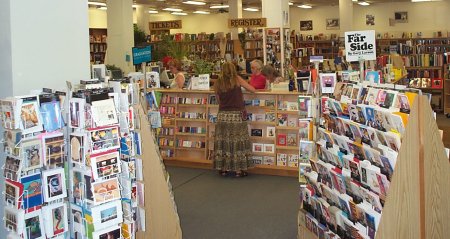 Mendocino Book Company's wide and well-lit space bustles with customers. I want to check out the farmer's market just down the block, but setting up for the booksigning eats up the hour. It's worth it. Hal and Susan arrive, nattily dressed for the open mic poetry reading they organize on Thursday nights at the Emerald Cafe around the corner.
Alas, no one but Hal and Susan are present at the time I am to begin. Hal suggests I begin playing music regardless, and, lo, eventually a small crowd settles in...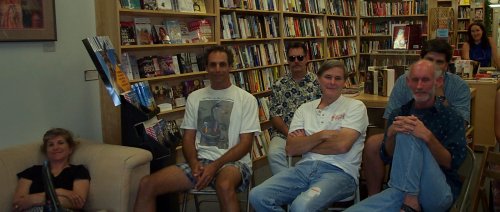 ...including Erik Frye, who assisted me in revising the book, and Larry Sheehy
who I met by e-mail a few months before (both in white t-shirts)...

...and Ann, the owner of the store, in a gray t-shirt.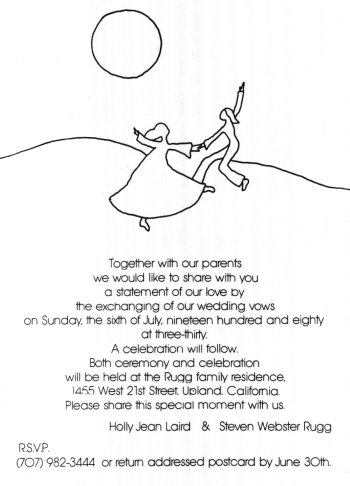 Holly Rugg and her daughter presented original edition copies of Living On The Earth and Being Of The Sun to be signed, along with a copy of her 1980 wedding invitation, which has the art from the title page of Living On The Earth on it. Larry Sheehy said he, too, had clothing with my illustrations embroidered on them long ago. That makes three so far. I am overwhelmed.
By the time I have visited with everyone who came to see me, signed books, sold CDs and t-shirts, bundled up my musical equipment, reloaded the car, and made my way to the Emerald Cafe, the open mic poetry reading has given way to a performance by Santa Cruz vocalist/guitarist Kevin Greeninger and his bass player buddy, Steve. Denise, the owner of the cafe, kindly made me a Greek salad even though the kitchen was already closed. I met Marylyn "Mother Bear" Scott from Albion, who invited me to roost at her house Saturday after my event at Gallery Bookstore in Mendocino town, and Tara Sufiana, a flambuoyant musician, poet and dancer, who invited me to visit her forty acres near Ukiah. Emerald Cafe serves as a living room to several generations of bohemians around Ukiah. "We needed a place for music," explained Denise of her vision in opening it.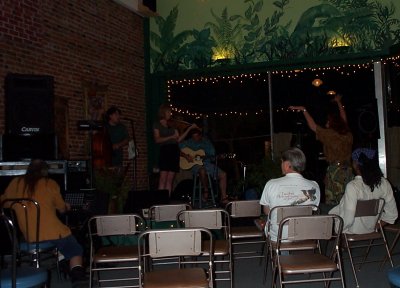 Kevin Greeninger plays and Tara Sufiana dances at the Emerald Cafe.