Getting Down at the Emerald Cafe
I wanted to cruise around Ukiah and see the Land of the Ten Thousand Buddhas (a Chinese Buddhist temple with a really good restaurant, according to Susan), the Real Goods Sustainable Technology Center in Hopland, Cal-Yurts in Talmage (I recommended the latter two in the new Living On The Earth), bathe at Vichy Springs historic "champagne" mineral baths, visit author/bass player/business consultant Bear Kamoroff in Willets, and see Carole Kooy, my dear friend and bookkeeper from Maui, who is in Willets seeing family and tending to property there. I wouldn't have minded a gander about the music store, the health food store and the office supply store. I did not go anywhere. I finished yesterday's web site, read my mail, and learned how to operate the merchant software on my computer. Tomorrow I leave for wilder country, where doing these operations may not be so easy.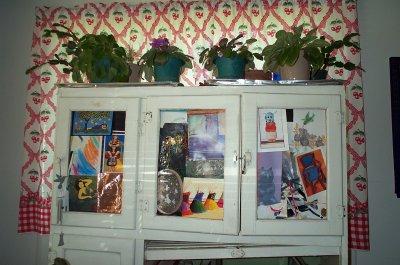 Susan's montage on an antique wooden cabinet in the kitchen
I feel peace at Hal Bennett and Susan Sparrow's house; they embody the combination of laid-back, muse-driven, humorous, and spiritual qualities I like best in friends. They, too, are working at finding the artist's place within a capitalist economy. You don't want to lose your soul or lose your shirt.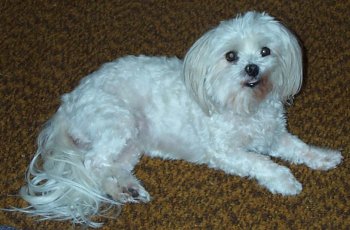 Cecily, one of two Maltese members of the household
Eventually I put aside virtual reality for real virtue. I took a shower and got ready to go to work. Tonight I play music at the Emerald Cafe.
As I was packing the car, I noticed this wonderful driftwood and stone planter along the drive.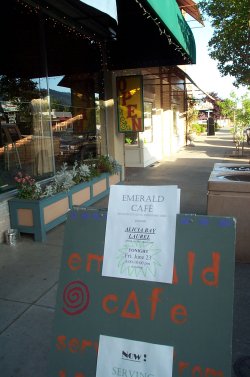 Poster on the sandwich board sign
in front of the Emerald Cafe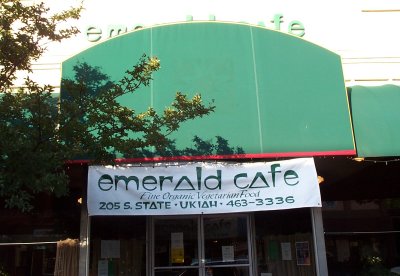 Naturally, many of the details of this wonderful restaurant are green...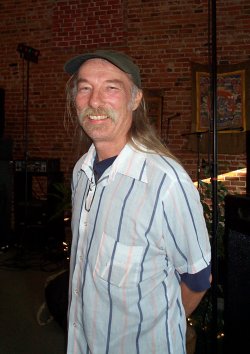 ...even the sound engineer is Irish.
His name is Barry Kirkpatrick, and he also
works as a musician and ear training teacher.
The visionaries who opened the cafe last November:
Denise Roork and Larry Babic.
Every community needs a place to relax together and enjoy food and music.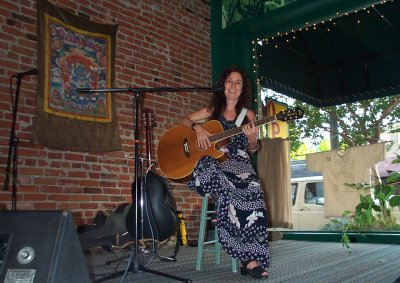 Barry took this picture of me during sound check.
I like being a folk singer. You don't have to be a sexpot, and
no one minds if you're fifty-one years old.
Kathy Harvey, who played violin on this stage the night before,
took these two pictures of me later in the evening...
...and handed me the two jpg files on a floppy disk right out of her camera.
Pretty slick. Thank you Kathy!
I was jazzed to have such an attentive and appreciative audience.
I will be back in Ukiah!