The Gallery Bookshop and Bookwinkle's Children's Books
In Mendocino Town
The drive out to the coast rolled by like a mountain ballad--over the rounded golden slopes dotted with oak and madrone, down into Anderson Valley, green with vineyards. I passed through three very small towns--Boonville, four blocks of early twentieth century buildings in the bright sunlight, and Philo and Navarro, clustered like summer camp buildings under the redwoods. In the last verse, on my right, the Navarro River swished over smooth rocks, and I could hear blackbirds among the river rushes.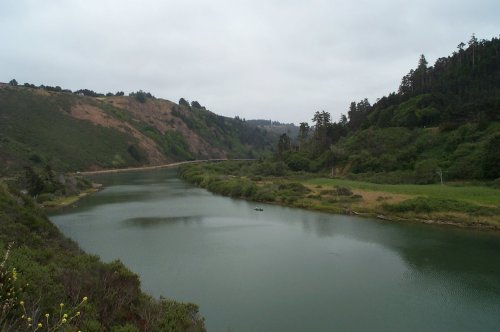 Kayaking on the Navarro River
The Navarro is not the only river meeting the sea along the Mendocino coast. A painter could spend a lifetime contemplating this terrain, and many do.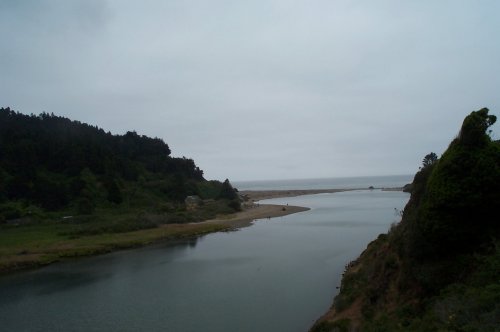 The Navarro meets the Pacific, just south of Albion
Mendocino town perches upon a long peninsula, where it withstands waves of fog and tourists with the aplomb of a great beauty.

Looking north at Mendocino town
Main Street traces the southern coast of the peninsula, and the Gallery Bookshop, at the corner of Main and Kasten, neatly bisects Main.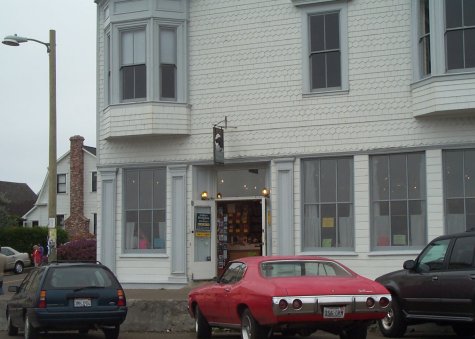 Entrance to the Gallery Bookshop and Bookwinkle's Children's Books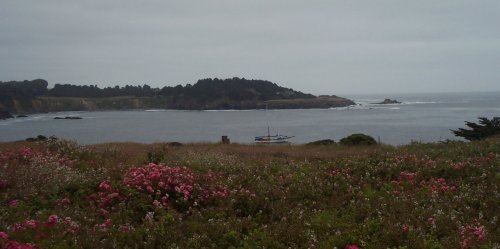 Looking south from the Gallery Bookshop...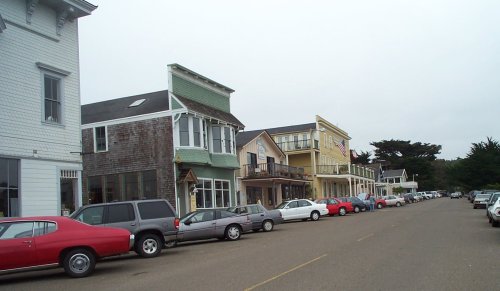 ...and east...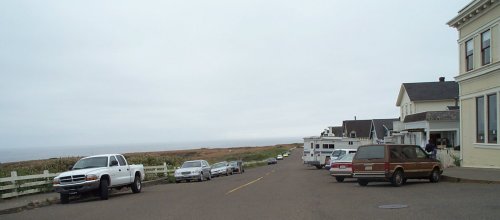 ...and west. Victorian architecture, sweeping views, and the automobiles
of admirers from all over the world.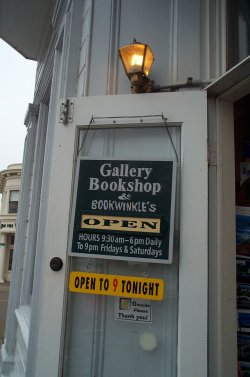 Only modestly sized signs are permitted in
a historic district, for which my soul sings.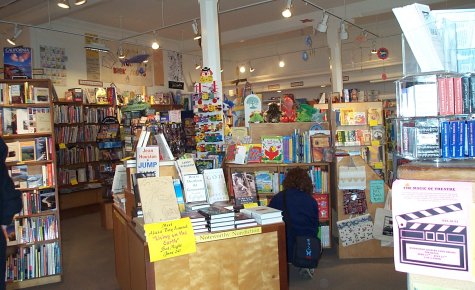 As I walked in, I saw my book centrally displayed among this year's
"Notable Non-fiction"--Ram Dass's Still Here, Julia Butterfly's book,
Deepak Chopra's introduction to God, and others.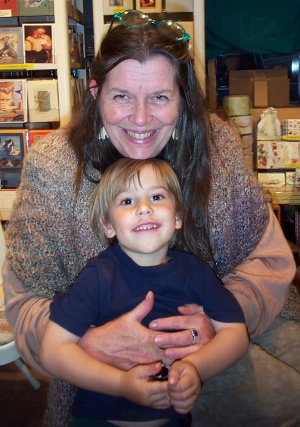 Marylyn "Mother Bear" Scott came in from Albion
with her grandson Tristan. Mother Bear organizes and
teaches at shamanic retreats for women.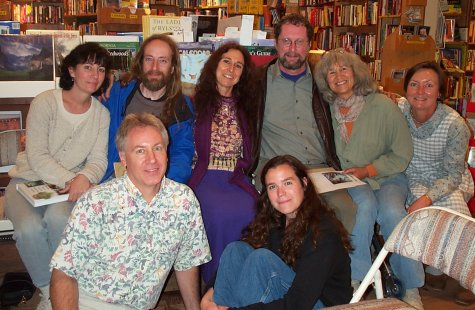 I soon cosied up to the lovely people who came to see me.
That's Tony Miksak, proprietor of Gallery Books, in front.
He gallantly treated me to dinner afterward and provided me with lodging at
his parents' Victorian cottage on Ukiah Street, a few blocks from the store.
Tony and I reminisced about the 'sixties. The son of bohemian parents in San Francisco (he played with Jean Varda's son when he was a kid), Tony joined a commune called Vocations for Social Change, and travelled around California in a school bus promoting positive life style change. He moved to Mendocino in 1974 (the same year I settled in Maui). Here he plays cello in a string quartet--his wife plays violin--and lives near the tiny town of Caspar, just north of Mendocino. Eileen (on the right, back row), works at Gallery Bookshop and at Corners of the Mouth, Mendocino's health food store inside an antique church. She joined us for talk after supper. Next to her is Honey, who bought and loved Living On The Earth in its original edition and brought her granddaughter to the booksigning. Frank (on her left) brought his nicely preserved copy for me to sign. That's Carl and Deborah on my right, and Sydney, next to Tony, in front.