Journey to the Lost Coast
A summer Sunday in Mendocino town--lost in clouds, timeless. Hoards of admirers swarm. The Victorian bed-and-breakfasts offer croissants and weddings. Wonder is the principal commodity of tourism. Wonder is precious; I feel wealthy. Tourism can stop the destruction of redwood trees and historic buildings, remind the longtime residents what is wondrous about where they live.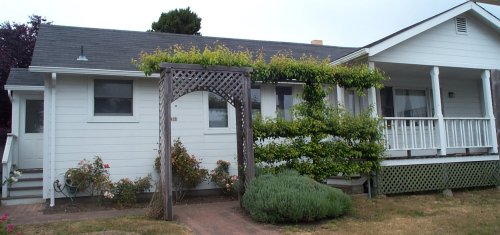 Tony Miksak's parents are restoring this cottage where I happily spent the night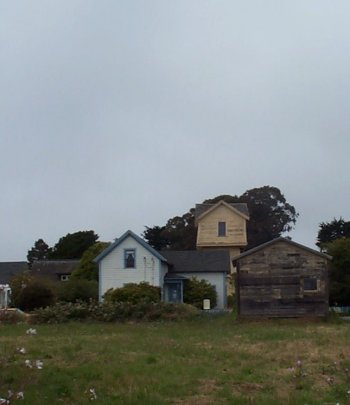 Houses across a field opposite Corners of the Mouth
Natural Foods on Ukiah Street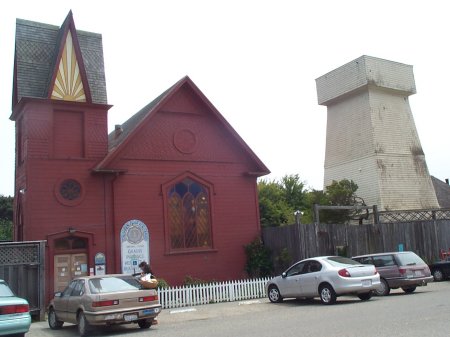 Corners of the Mouth (named for a hexagram in the I. Ching describing the
process of proper nourishment) occupies a former church. I picked up my
usual road food--baked tofu and an organically grown cucumber.
I was amazed and baffled by this steeple-top sculpture.
The figure with wings holds a scythe and rests his hands on
the shoulders of a woman who seems to be spinning yarn
or, perhaps, lighting a lamp. Repent now, for death is near?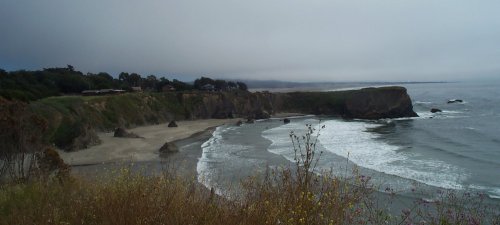 Highway One carried me north through fog and sunlight, skirting the gray Pacific, tiny towns
with trailer parks and motels along the road, and meadows where cattle grazed.
Suddenly steep stone cliffs rose from the sea before me, and the road veered inland,
into a redwood forested canyon, and on for miles over deeply forested hills.
Fog gave way to heat and sunlight as I descended into the valley where Highway 101,
now a two-lane road, bustled with fast traffic. Roadside attractions from the 'fifties remain:
Redwood Burl Factory. Confusion Hill. The Trees of Mystery. Lumber trucks bearing murder victims.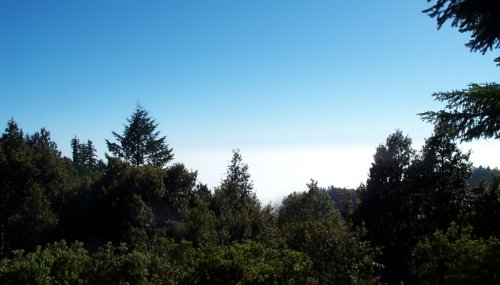 I turned off at Garberville and followed the signs to Whitethorne, another long, long tree meditation from
valley to coast. Beyond Whitethorne, more miles of forest road to Whale Gulch, a place I visited often
in the early 'seventies. Memories began to surface. I lived and wrote part of my book here;
I almost bought land and settled here. I still have friends here that lived at Wheeler Ranch,
including artist Bryce Grey, who built the yurt and the tin slide guitar pictured in the book.
Photo above: Looking down upon the fog-covered sea from the eastern slope of Whale Gulch.
The Lost Coast gets its name from its absence of paved highways, owing to its
vertical sea cliffs and immense canyons. The silence is golden.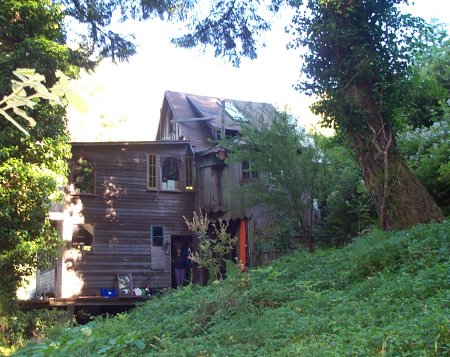 Nancy Peregrine came, laughing, to the door of her handbuilt home in the woods
inwhich I once sat and made notes for the original Living On The Earth. Nancy
knew everything about living far from civilization--she grew her food, made
clothes and furnishings by hand, raised two home-birthed, home-schooled daughters,
fished from her own fishing boat, and ran a llama-packing hiking business for ten years
called Lost Coast Llamas. The daughters are grown and married (one just got her MD),
their father practices acupuncture in Berkeley, and, at fifty, Nancy went back to school and
got certified as an ortho-molecular nutritionist. She opened an office in Garberville.
We embrace like sisters and catch up on thirty years of living.
I still sit, amazed, in Nancy's living room and kitchen as I take in the
multiplicity of her art, cooking, spiritual and healing objects, projects, books, tools.
I consider how art and healing are the two dominant bohemian career paths.
Most of us learn something of each. Nancy was raised in Berkeley and in the
artists' colony of San Miguel Allende.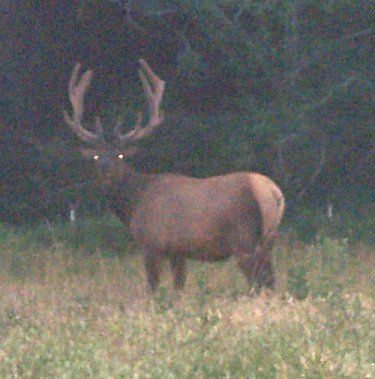 As dusk enveloped the valley, Nancy called me to the window.
"There's my elk." In elk herds, the newly grown males are sent off
to establish their own territories. This one decided that Nancy's meadow
would serve, and one can see by his girth that it certainly has.
The elk, hunted to near-extinction early settlers, are making
a come-back in lands where they once roamed in large numbers.