The Hemp Connection in Garberville
Finally, life off the grid. After thirty years in Whale Gulch, Nancy has telephone service, but it sounds like a walkie-talkie because it is a cordless phone ingeniously connected to a base several miles away on a mountain top by two directional radio antennae aimed at one another. She also has a CB radio. Both run on twelve volt batteries powered by solar panels on the roof. The house is wood heated, plus a small propane heater in one bathroom. Lights are twelve volt, stove and refrigerator, propane. Tapwater comes from a spring, and tastes pure and sweet. Water from the sinks and shower water the garden, so all soaps used are biodegradable. The garden is prolific. Nancy, a co-chief of the Whale Gulch Volunteer Fire Department, maintains a tank of emergency firefighting water next to her home. The tank doubles as a swimming pool and fish pond. A sunbathing raft floats in it.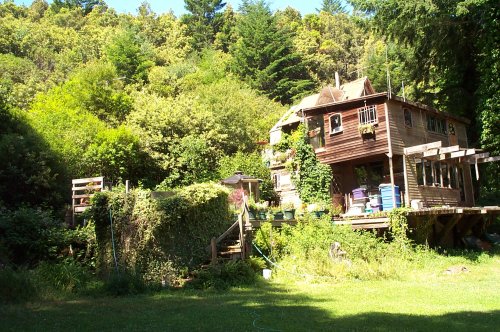 Water tank/swimming pool beside Nancy's house
"I built the guest house so that my daughters would continue to feel a connection to the land," she explained to me as we walked through the forest to the cabin where I am staying for two nights. Newlywed Anna lives near Santa Cruz, and visits often enough to have richly expressed her passion for interior decorating within the cabin. Jessica moved to Portland, Oregon, where she will be interning.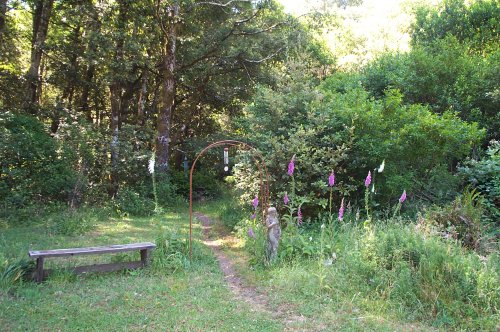 Beginning of the pathway to the cabin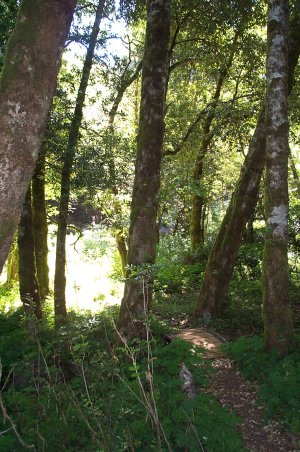 A tiny bridge over a stream bed on the way to the cabin
Solar panels on the roof, and a puff of smoke from the chimney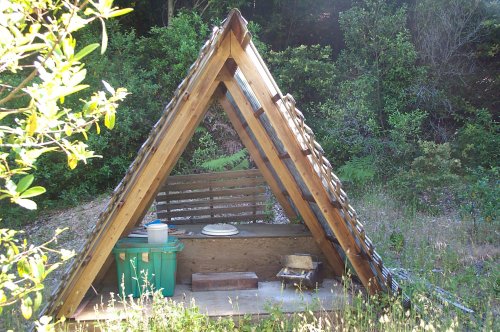 A comfortable one-seater over a large deep pit. The green container holds powdered
gypsum and the gray box on the left contains ashes from the woodstove. Both deodorize and
sanitize the pit below, and both benefit the surrounding soil. Instead of flushing, one tosses
a scoop of gypsum or ashes into the pit. Toilet paper resides in a plastic container
on top of the green container. Behind it are magazines.
Nancy has a flush toilet in her house, for which she dug the septic tank
with a shovel and poured the cement for it herself.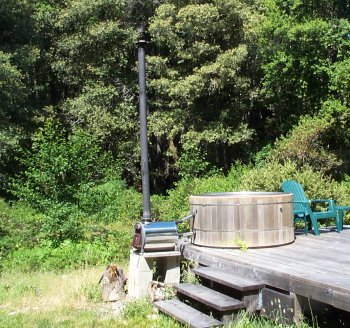 A wood-heated hot tub on the back porch!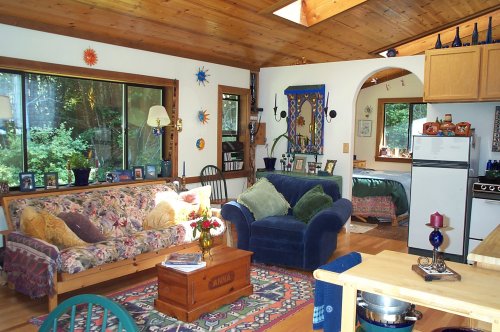 Anna's playful, comfortable, folk-art-filled living room and kitchen, with
bedroom seen through the arched doorway. Anna put in the hardwood floor herself.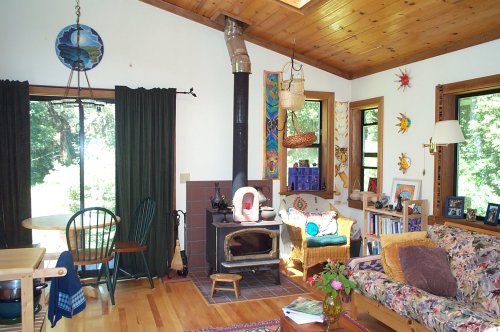 The cast iron wood stove and a small dining table beside it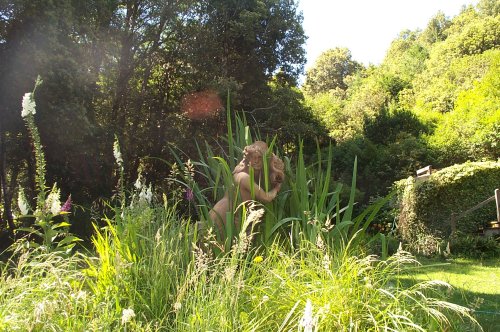 Fountain at the center of the lawn in front of Nancy's house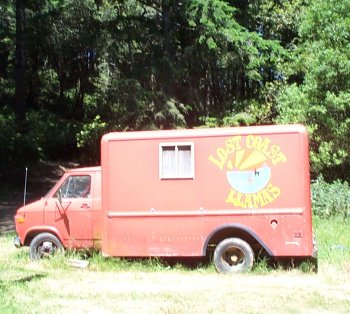 All that's left of the Llama backpacking business.
Nancy sold the saddles to South, a son of Ayala Talpai,
the artist I will be visiting in Marcola, near Eugene, Oregon;
South lives near Nancy and continues the business.
"I kept all six of my llamas until they died," Nancy told me.
I took a walk for an hour along the dirt roads near Nancy's land before
packing up for my event in Garberville, an hour's drive north and east.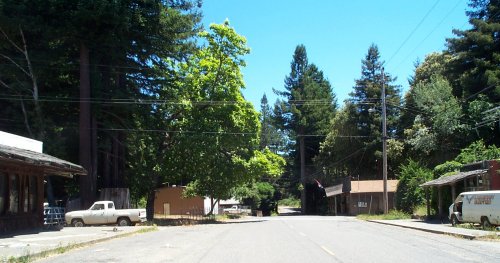 Nancy's nearest town, Whitethorne, nearly in its entirety--down the road is a school.
I once visited the Redwoods Monastery, just west of town, a commune of six American
nuns and six Belgian nuns who bake communion wafers as a source of cash flow,
and otherwise farm organically, meditate and follow artistic pursuits. I attended their midnight mass
one Christmas Eve; the sisters gave a modern dance performance dressed in leotards and tights.
I've heard that the Church ordered them to desist from dancing with antlers and shakers.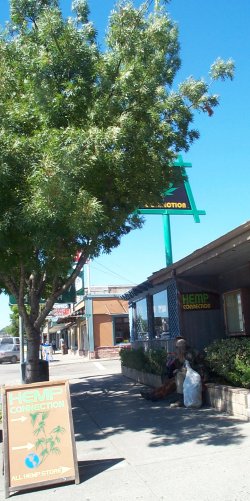 A brilliant 103 degree day in Garberville; shoppers outside the Hemp Connection
huddle in the shade. The tall sign behind the tree
created controvercy in Garberville when the store first opened.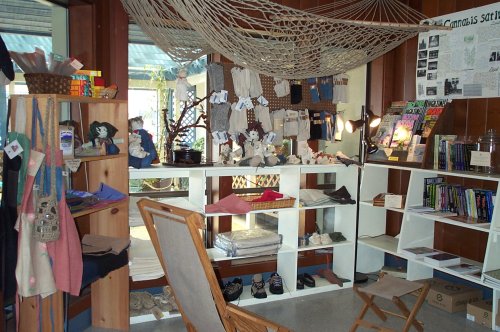 In addition to stylish natural fiber clothing, Hemp Connection offers hemp fiber
household goods, informational literature, and novelty items...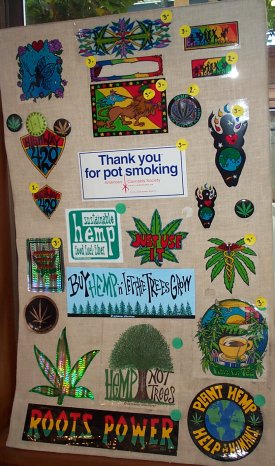 ...including decals and bumperstickers.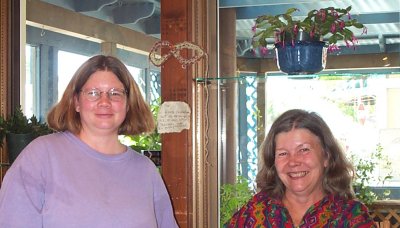 Teresa and her mother Marie own and run the store.
They provided a shaded patio just outside for my booksigning.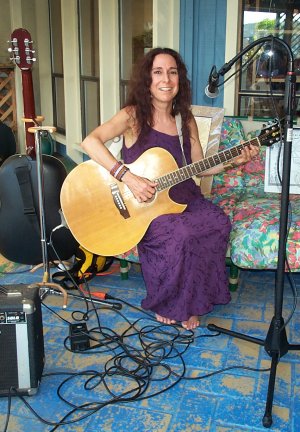 I dressed for the heat, and set up my sound system
to counteract the roar of trucks and RVs on Redwood Avenue.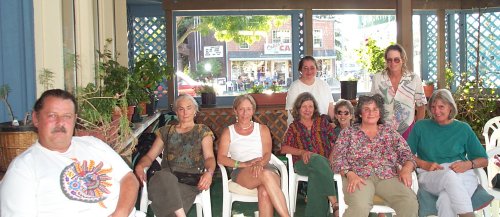 A group of old and new friends assembled for my performance.
Bob lived at Wheeler Ranch and never went back to the city. He bought land in
Humboldt County where he and his wife, Tory, live with their son.
Bob, on the right, brought the exclamation "Badaba" into the Wheeler Ranch vocabulary
by imitating the calls of the woodpeckers so often that people called him "Badaba Bob."
Susan, in brown on the right, brought a Bookworks first edition copy
which she bought in Garberville thirty years ago.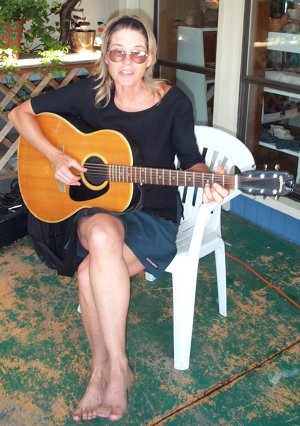 After the booksigning, Anna Hamilton, known to her many
devoted fans as Anna Banana, treated me to a couple of her
original songs. I met Anna in 1976 in Orange County through David
Santo when he was building me a guitar. I had heard she moved to
Humboldt County, and asked Nancy if she knew Anna's whereabouts. Nancy laughed.
"She lives on my land and rents a house from me." She plays four nights a week
at a restaurant in Shelter Cove, and works as a gardener at a school.
I hope I have inspired her to make a CD. We're all waiting!