J. J. Perry's Books in Eureka
Nancy awakened me with a cup of her famous Liverty herbal blend tea ("give me Liverty or give me death" the packaging proclaims) to give me a few moments to prepare for a visit by Bryce Gray, watercolorist, instrument builder, marimba band leader, inspiration for several pages of Living On The Earth, and fellow Wheeler Ranch alumna, who I had not seen in thirty years. My camera was in the car, so you will have to wait until I see him again at the Oregon Country Fair to see how very well he looks today. His arrival was heralded by the clattering of a medium-sized reddish bear across the porch of Nancy's guest cabin and into the woods in the direction of the outhouse. My first thought was "My, but Bryce has a big dog; it certainly looks a lot like a bear." Apparently Bryce's appearance in the meadow startled the bear. Nancy says she's seen mountain lions, too, and had to give away her goats so that the lions were not so tempted to hang about.
Bryce brought along a portfolio of recent watercolors. He creates his signature wash by watercoloring outdoors under a light rain, letting nature interact with the art. He builds and plays marimbas, milling the hardwood himself from fallen trees; currently he is building one of bay laurel which I am trying to convince myself I can afford. Joe Gallivan loves soft and primitive sounding instruments, and I have always wanted to play marimba or vibraphone. Where would we put it? We both have most of our possessions in storage right now.
Bryce and Charlotte created the yurt in Living On The Earth before either they or I knew the name of what they had built. I drew a portrait of Bryce with his directions for making a "funky tin slide guitar". I brought one of Charlotte's amazing patchwork dresses on the tour and wore it to the Earth Day Fair in San Diego. They birthed two babies before they parted ways. Cory, born at Wheeler Ranch, attends law school at the University of San Francisco. Mariah, born near Whitethorne, has three kids and works as an airplane pilot, her dream come true. Charlotte lives outside of Santa Cruz in the mountains. I want to know what this fabulous woman, whose ideas I documented in Living On The Earth, is doing now.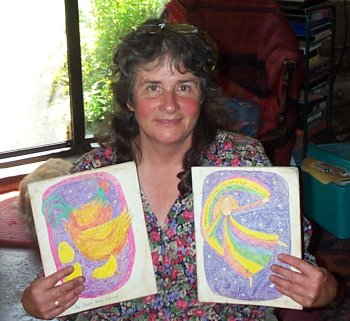 Before I left, I signed Nancy's copy of the new book, as well as
her copies of my 1972 coloring books, inwhich her daughters had
crayoned when they were toddlers. Nancy presented me with a pouch
of her herb tea, a smoothie recipe, and a jar of her Green Goddess Healing Salve.
All of this in additon to two days of magnificent hospitality, dinner at the Mateel Cafe,
and the organizing of the event I did the day before in Garberville. I am blessed!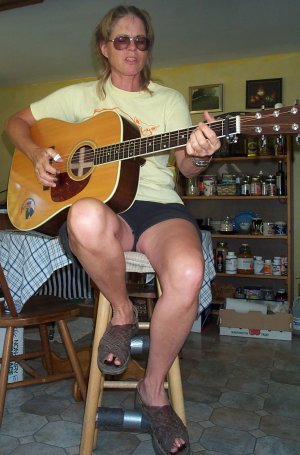 My takeleaving was not complete without a visit to
Anna Banana's cabin near the stables where Nancy used
to board large animals for her neighbors ("horses, cows, donkeys,
even a buffalo lived there for a while"). Anna restored the cabin from
near-devastation. She wrapped her flexible voice around blues,
a jazz ballad, a Brazilian-sounding piece, all original. We could have
talked and made music the rest of the day, but I had to hit the road.
I am beginning to master the slalom of mountain driving and recognize the landmarks of the hour-long trek from Whale Gulch to Garberville. But that is the last of the familiar sights for a while. From here to Seattle I am visiting places previously unseen. Highway 101 from Garberville to Eureka undulates hypnotically through pine forests, over rivers, and onto a beautiful bay surrounded by three moderately sized towns, whose population combined totals about 100,000. Arcata, home of hip Humboldt State University on the north side of the bay, created a marsh area as a natural wastewater treatment project, which is now a model for cities nationwide. During the Gulf War, the Arcata city council officially proclaimed the area a safe haven for draft resistors.

Perry Bradford-Wilson's store on F street, in a blue-collar section of Eureka, is far from the mini-Berkeley across the bay, and barely trafficked on a Tuesday evening. The radio interview on KHSU brought in one person, a wonderful woman named Lynne, who owned a copy of the original Living On The Earth. I played her a little music and she bought a CD.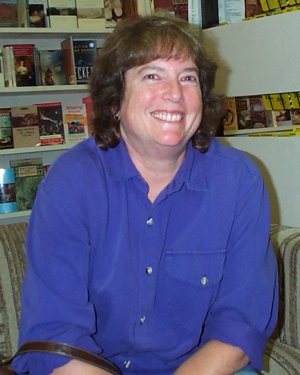 Lynne
The absence of an actual event gave me an opportunity to visit with the owner of the store, Perry Bradford-Wilson. We traded autographed copies of our books; his being a novel called Big Doin's At The Chinese Baptist Church: Tales of McKinleyville. He said, "Everyone who works in the book business has a few novels in them; nobody is in this for the money." Perry grew up in the Sierras, attended college in San Jose, and migrated to Eureka more than twenty years ago.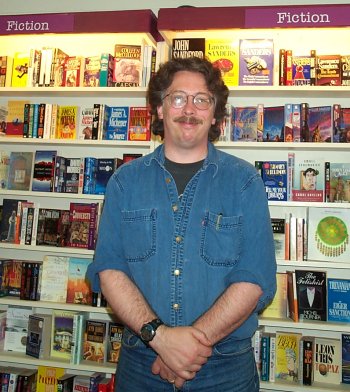 Perry's first child just took her first unassisted steps today, and he is thrilled. "Why didn't I have kids sooner?" he wonders. He recommends I visit the plaza in Arcata, and lists some of his favorite shops--Heart Bead, the restored movie theatre, the Co-op. I decide to light out in that direction right away.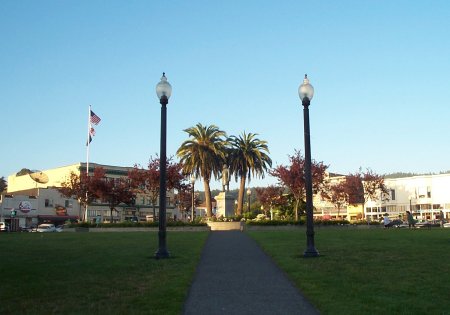 The formally laid out plaza in central Arcata hardly looks like a hippie hang-out...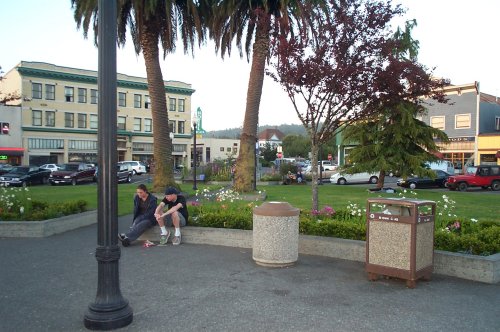 ...but, in fact, is peopled with two young couples and a guitar player upon random sampling at 8 PM.
On the perimeter, I found a club with a full schedule of live bands, several eateries, a camping supply
store, a boutique whose clothing I would wear, several bars, an ice cream parlor, and the post office.
I walked down to the co-op, bought more road treats and got the name of their book buyer. I am not asleep.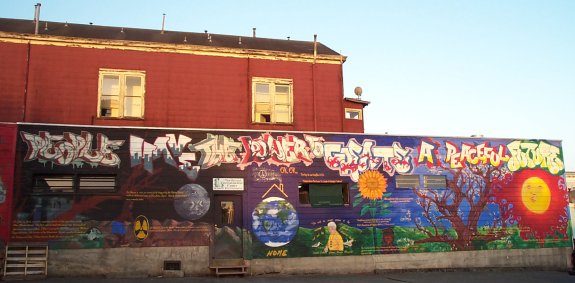 The North Coast Environmental Center's office, across the street from the co-op
boasts a brilliantly rendered mural full of uplifting messages.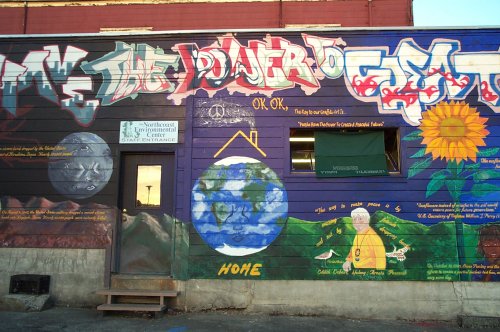 "People have the power to create a peaceful future."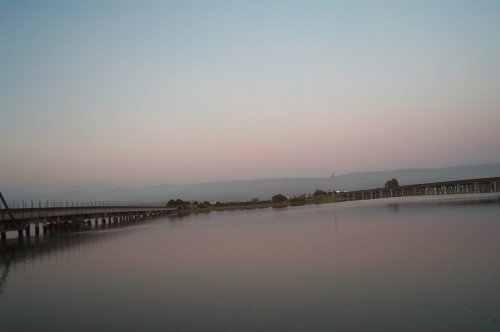 Peaceful is what I felt crossing the Humboldt Bay estuary that evening at sunset.