Village Books in Mount Shasta City
I bet there are hardware stores and high school girls with waitress jobs in Mecca, too. That's the odd juxtaposition of workaday America and spiritual outer edge that characterizes the town of Mount Shasta City (population 3,500). You can meet plenty of people who have had personal interactions with intergalactic beings, saints and angels, or were these beings in a past life, or moonlight as one of these currently, and you can also buy tires for your truck. Somewhere pleasantly in the middle, psychically and geographically, stands Village Books.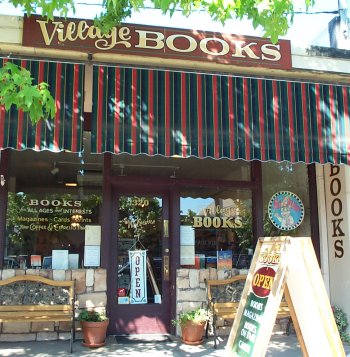 "Books for all ages and all interests."
You have to love Kathy Lancaster, the owner of the Village Books. She cheerfully relates and provides books and coffee to locals and tourists alike, who encompass, as noted above, a broad spectrum of consciousness. She also maintains a charming children's section.
Kathy with her Chesapeake Bay retreiver Buddy
and another dog whose name I did not catch.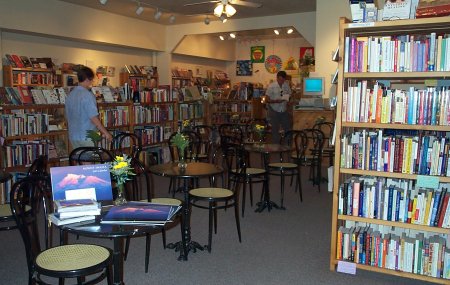 You can look up any book in print on the computer at the rear of the store.
Kathy says her web site brings in orders for books from all over the world.
I imagine she does a stiff business in books and calendars celebrating Mount
Shasta, some of are stacked on the table in the foreground.
Today was also the 57th birthday of my long-time friend Tanya Armstrong, who, within the last year, sold her house in the hills above Oakland and bought a 60 acre river valley about 50 miles west of Yreka. She drove in for my booksigning, and I took her out to lunch. Tanya wins swimming races regularly, rides horses, raises giant dogs, and now runs a sizable ranch, so she stays in great shape and defies stereotypes of aging. She celebrated with a big Dos Equis.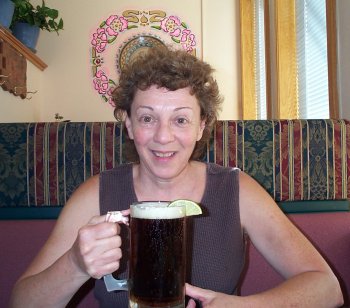 Happy Birthday Tanya!
I had fun with my audience that night. I counted about twenty, but the photo shows less. Maybe the Ascended Masters don't photograph well. At the end of the evening, I announced that I planned to hike the next day and would love some company--particularly since I don't know my way around these mountains. Four people happily volunteered to meet me in the morning.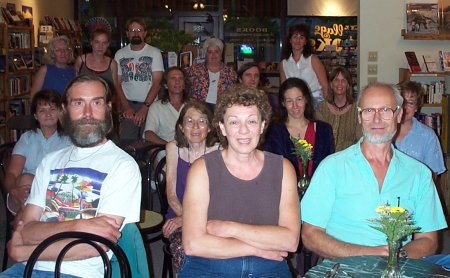 After the booksigning, one of my new friends, Ariel, lead me--on his bike--to the house where he was staying, so I could upload yesterday's web page to my site (I stayed two nights at a hostel without phone access). Ariel's landlady was incredulous that I was contacting a web server in Alabama from her phone--for free, I had to assure her, although even I am amazed that Net Zero has two dial-up access numbers in Mount Shasta. I explained that I am touring North America for eight months with a new book and a CD, documenting the whole tour on my web site from a lap top. I might as well have told her I was from the Pleiades.