Cruisin'
I couldn't wait to take Crescent for a spin. I wanted to visit Paul Alkire in Lafayette, an hour southwest of Portland, where he is renting a room in Fletcher House, a home listed in the Registry of Historic Buildings, owned by attorney Ann Helm. When Ann bought the house and the land surrounding it thirty years ago, the property was bare of vegetation and the house run-down and dark. With her children, Ann planted all of the trees and shrubs on the property, and remade the house into the fantasy castle it is today.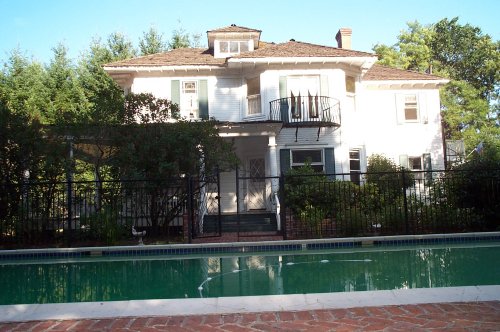 The inviting pool and exterior of Fletcher House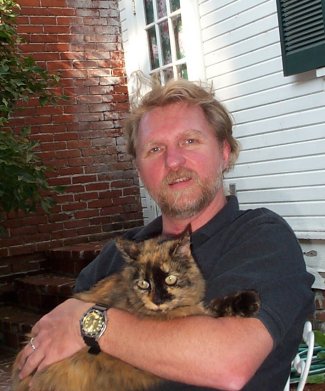 Paul and the ancient cat who lives at Fletcher House
Paul delighted showed me around the place. Ann has a creative way with antiques, and she really loves cobalt glass.
The front parlor. "Nobody actually sits there," said Paul.
One of the earliest made electric stoves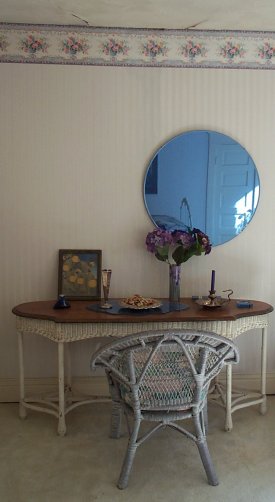 Vanity table with a cobalt mirror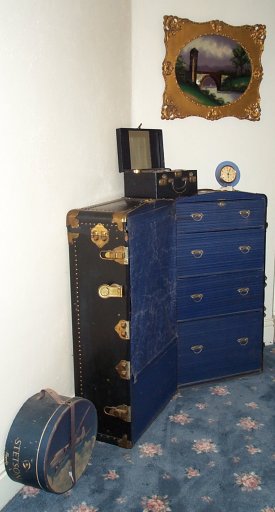 A restored steamer trunk and hat box in the hallway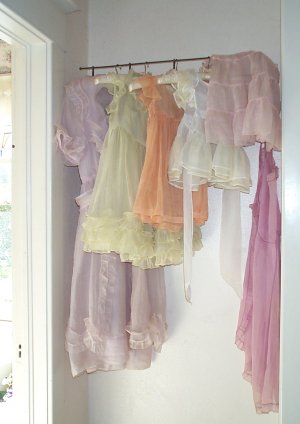 Six antique children's dresses dyed in Easter egg pastels
as a decoration for an alcove in the hallway.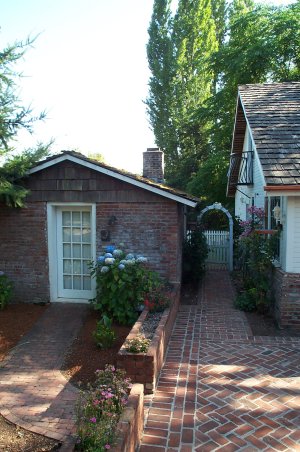 Cottage, carriage house, and brickwork paths and patio
More of the brick patio and the pool
Paul and I share a love of listening to jazz, and he tuned me in to the Portland jazz station, which greatly increased my pleasure in driving my new car.
Towards evening, I rolled into Portland to visit someone I had last seen as a newborn baby. Angie's parents, John and Sue Mikul, lived at Wheeler Ranch when I did, and are among those listed in the acknowledgements of the original Living On The Earth, along with Angie's four older siblings, Peggy, Charlie, Heidi and Pam. Pam found me over the Internet last year, filled me in on the intervening years, and even sent me recent photographs.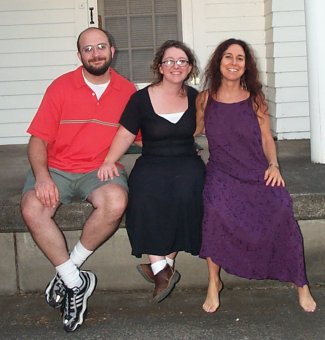 Josh and Angie Hatch, and me
Josh and Angie share a credo of finding happiness in life which I find most agreeable. They are celebrating the first anniversary of their marriage; they love to ride their tandem bike, which breaks down into two suitcases for travel.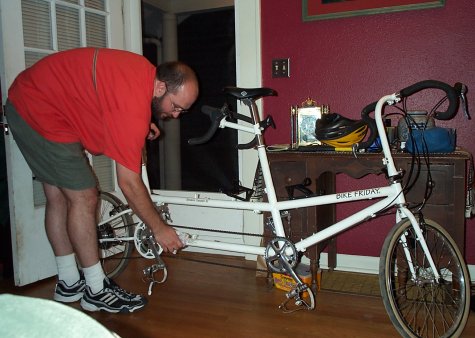 As a wedding gift, Josh bought a kit to assemble a theramen for Angie after seeing her fascinated by one at a music store. She set it up with an amplifier and played a little music on it for me.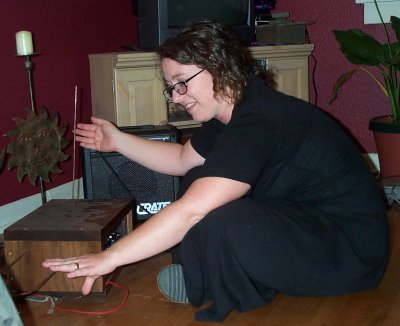 Next I found Paul by cell phone and agreed to meet him at a jazz club in downtown Portland for a little supper and music.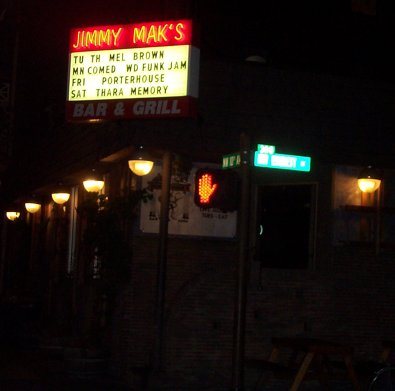 Jimmy Mak's specializes in straight ahead jazz and Greek food.
Tonight we heard the Mel Brown sextet, and I had two dishes
with goat cheese in them, both good. The music was great.
The band was tight, taking unexpected twists and turns in the music
all in synch. About a third of the compositions were by the pianist.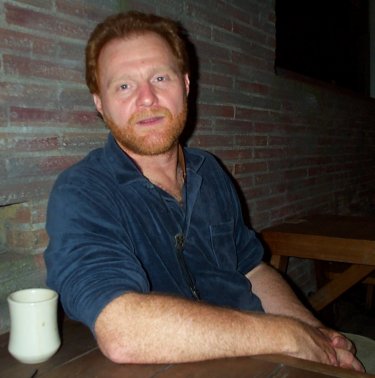 At the break, I asked the bouncer where I might find out the names
of the band members for my web site, and he directed me to Warren
Rand, the saxophonist with the band, who was relaxing outside.
Warren didn't mind my taking his picture, and offered to take one of me.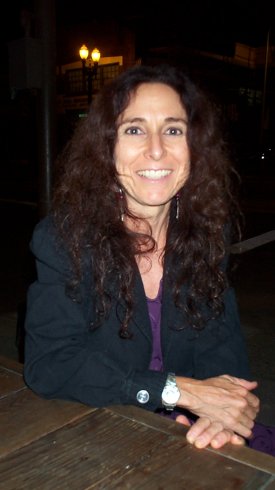 He also knew my book, which amazed me.
So, here's the line-up: Warren Rand, alto saxophone; Thara Memory, trumpet; Stan Bock,
trombone; Gordon Lee, piano; Andre St. James, bass, and, hidden behind the trombonist,
Mel Brown on drums, also the leader of the ensemble. Joe Gallivan says he knows Mel.