Friends Since Third Grade
When I met Dyanna, she had just arrived in Los Angeles from years of living on a kibbutz in Israel with her parents and sister. She heard that my mother is an artist. She knew she would be an artist someday, too. We visited one another often, even after her family bought a house an hour's drive away in the San Fernando Valley. I was fascinated with her world out there. Everything was new, clean, plain. I lived in a dark 1920's Spanish style house filled with antiques, art, and complex architectural details. Dyanna's house had simple lines that let in lots of light, and it had a swimming pool! At home we ate these complicated meals made from scratch, but at Dyanna's, sometimes the grown-ups would take you out for hamburgers. Kids rode skateboards on the sidewalks. The San Gabriel Mountains were still wild in the 'fifties, and we hiked there, just Dyanna and me, and sometimes her older sister, Sheila.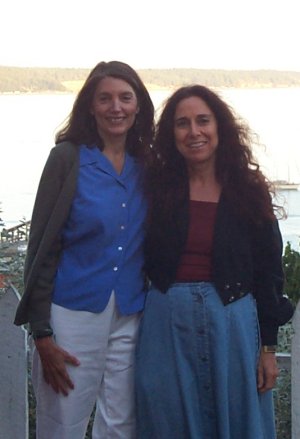 Four decades later, I still love to visit Dyanna,
and we both grew up to be artists.
Dyanna met Bill Wolcott in Arcata, California in 1982. I attended their wedding not too long after that. Dyanna had been designing and silkscreening tote bags, and, just for a lark, she and Bill decided to silk screen her humorous animal designs on t-shirts and sell them at a craft fair in Port Townsend. They sold out the first day. They scrambled to put together more for the following weekend, and sold out again. With the money from the two fairs, they opened a tiny t-shirt business in the back bedroom of their house. Before long it was a factory with twenty-six employees, plus a chain of clothing stores. They bought and remodeled their dream house, sold it and built another house they designed themselves. They sold the clothing business; Bill buys and manages buildings around Port Townsend and sits on the town council; Dyanna illustrates books for major publishers. Samantha, their daughter, now twelve, sings and plays piano, knows her way around a computer, and loves to do art projects. Together they've trekked in Nepal, swam in Thailand, been practically everywhere.
The house Bill and Dyanna designed and built for themselves.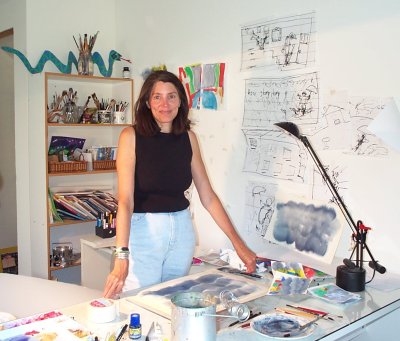 Dyanna in her art studio, which is separate from the main house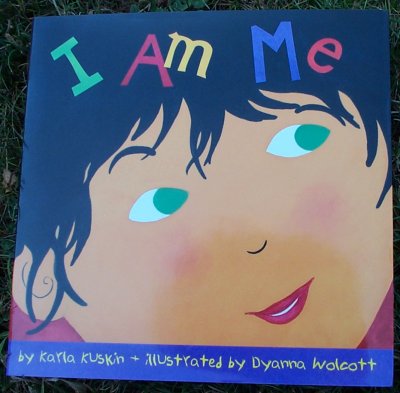 Cover of her most recent book, published by Simon and Schuster
Her current project, for Orchard Books, is another children's book, Rain Romp--a story about appreciating bad weather, which seems all too appropriate to her in chilly, wet Port Townsend. She loves the poem, though, and experiments with watercolor washes to find her way into it.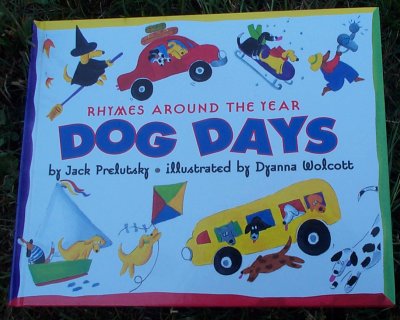 Her first illustration job for a major publisher
an assignment from Random House.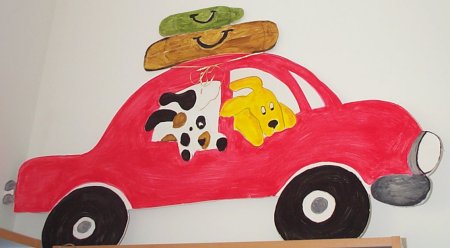 Summer dogs on vacation from Dog Days, enlarged into a cut-out
on the top of a set of shelves in her art studio.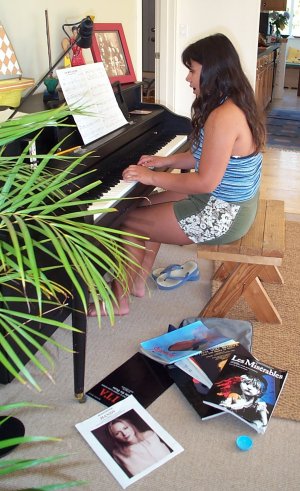 Samantha sings me tunes from Evita, Les Miserables,
Phantom of the Opera, and plays Pachelbel's Canon in D.
I tell her that, even when other musicians are out of
work, keyboard players who sing have gigs.
Furthermore, singers who play instruments have a great
advantage over those who do not in their understanding of
music theory. I said that, having together what she does at twelve,
she is in an excellent position to be a professional musician before
she is twenty. I wish I'd known all of that when I was twelve;
I quit playing piano far too soon! Samantha loves to perform, and is
working up an act for busking in the streets of Port Townsend.
Samantha in the midst of a discussion over Instant Messenger
on Hot Mail with her friend Ashley. Two Hot Mail recipients
can link into a sort of private chat room and type messages back
and forth without having to send and receive separate emails.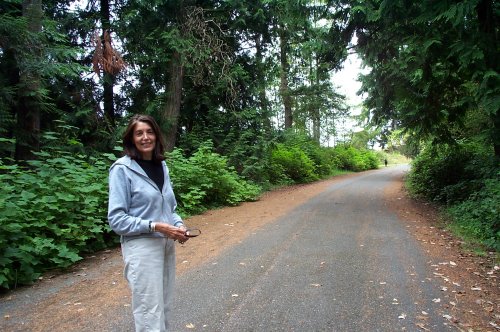 Dyanna and I walk in the hills of Fort Worden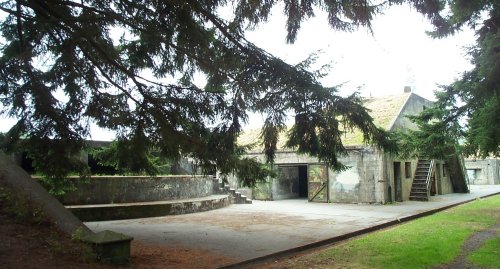 World War II bunkers with grass camouflage roofs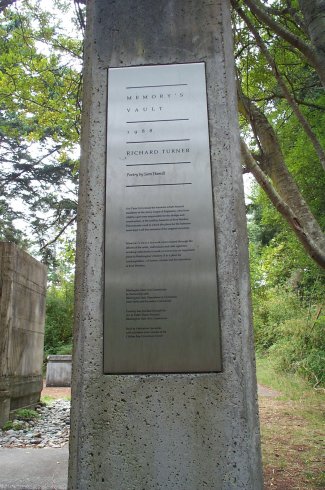 Memory's Vault, a series of concrete sculptures with
metal plates inscribed with poetry--some sensual, some
anti-war, some about nature.
View of the ocean sixty feet below
from Fort Worden hiking trails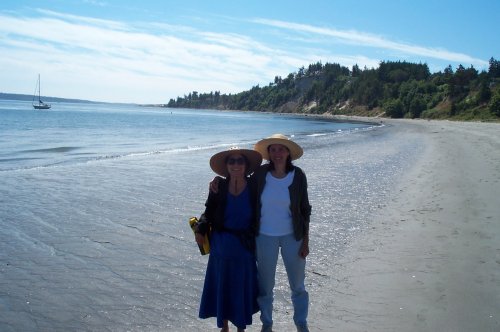 We walk on the beach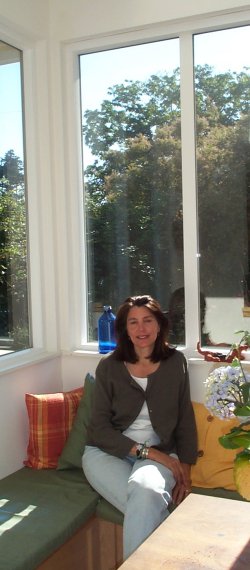 Dyanna relaxes after the long walk
Her copy of Living On The Earth--one of the Bookworks
first edition copies--sustained some water damage, but is
inscribed with a drawing created the same year as the book.