The Song of the Hearth
Mela, in 1974, lived in the Charles Lindbergh family cottage on a cliff overlooking the sea ten miles south of Hana, Maui, in Kipahulu, a place of otherworldly beauty--waterfall pools, gently sloping meadows, tropical forest and flowers. Mela's idea of a night out was to dance on a meadow in moonlight with a gauzy veil, or to throw a Polynesian feast in her temple-like home, with placemats of giant monstera leaves, dishes made of seashells, a huge hibiscus at each place setting. Her other home, The Compound, sequestered on a hill in Silverlake just up the street from Anais Nin's Frank Lloyd Wright home, denied Los Angeles reality, looking instead like an exotic treasure palace peopled by artists, actors, musicians, and other beings of extreme beauty, including a borzoi named Isis. There she worked as Pamela Hunt, superb fashion model.
Mela made every ordinary aspect of her life a sublime celebration of mythic proportions--clothing, jewelry, furnishings, meals, grooming. It was like walking into a Maxfield Parrish world, or a painting by Alma-Tadema. I wanted to learn this practice of making onesself and one's life into an art piece. We began working on a book together, a holistic beauty book called Peach. We labored on this project for five years, including a vast photographic documentation undertaken by Mark Diederich. I never found a publisher for the work, and it has languished in boxes in my archives since the early 'eighties, when I turned my attention to working as a musician. But, as we all know, the story is never over.
Mela at fifty-five, now Mela MacVittie, owner-operator of Integrated Interiors, lives north of Bellingham, Washington, in a spacious home shared with her husband, Deva MacVittie, a guitarist and massage therapist, Frank Eventoff, a musician and inventor of electronic musical instruments, his partner, Andrea, and a borzoi named Taliesin. She expanded her mythic spirituality to become a leader of a women's circle for pagan ritual; she expanded her decorating services to the homes of the rich and famous.
Mela makes poetry with things instead of words; poetry in the classical sense, rich with allusion to literature and myth. Here are some verses from her home: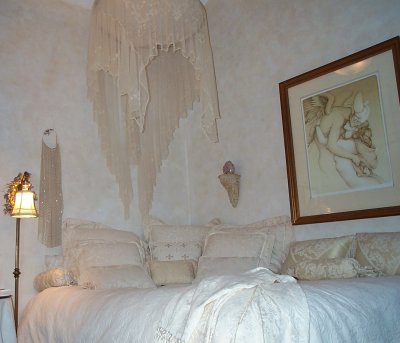 The guest room where I am staying, called the White Goddess Room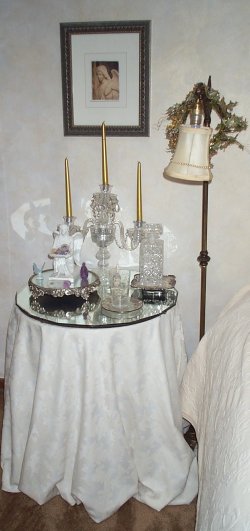 Bedside table in the White Goddess Room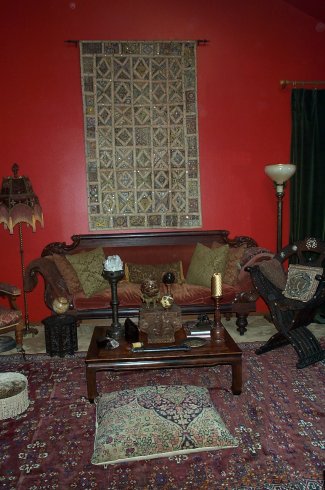 Sofa in the high-ceilinged, Middle-eastern/Indian dining room.
"This room is for night," Mela explained. "The paint was
chosen to be just bright enough to look red at night."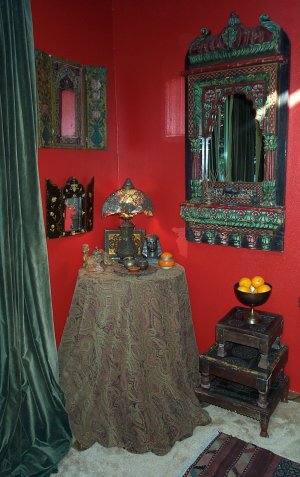 A corner vignette in the dining room
Chaise in the dining room
The Chinese living room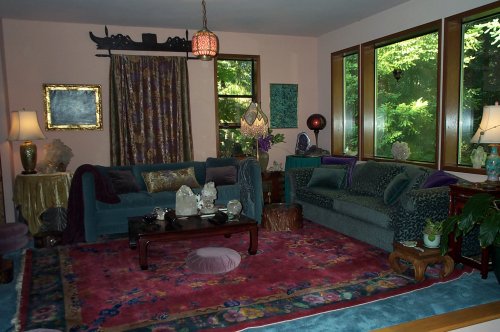 Alcove of the Chinese living room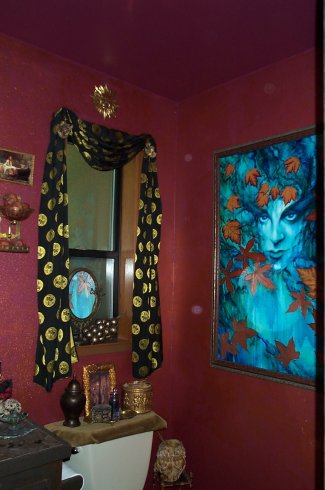 The Gothic commode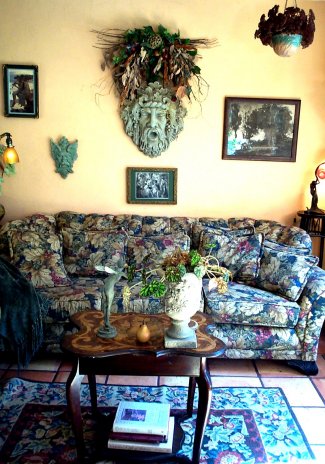 Sofa in the kitchen, whose theme is Gaelic myth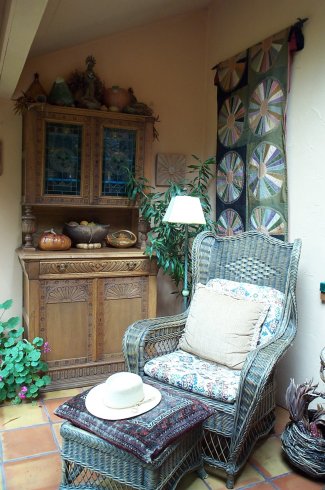 Easy chair on the kitchen outer alcove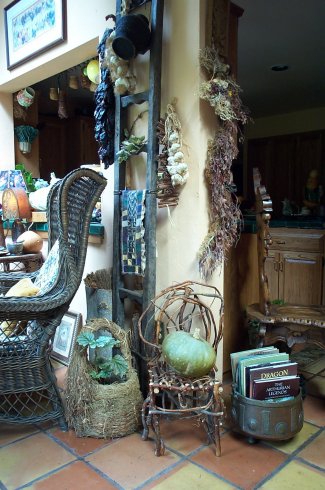 A pumpkin in a child's chair in the kitchen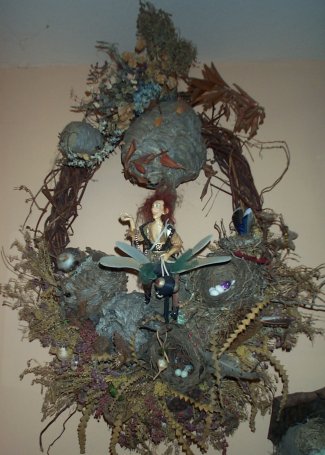 A wreath of bird's nests, hornet nests, fairies, and
dried plants above the phone desk in the kitchen
Candleabra and mask by kitchen French doors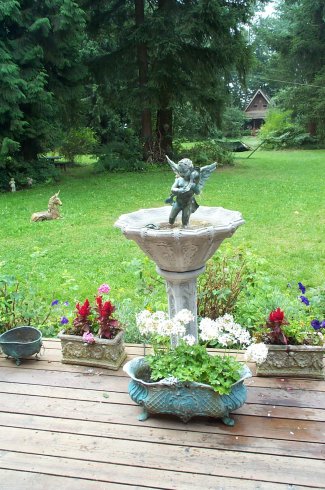 Fountain and unicorn outside the kitchen doors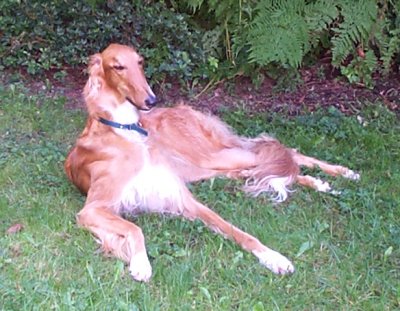 Taliesen, named for the famed Celtic bard, poses like a dragon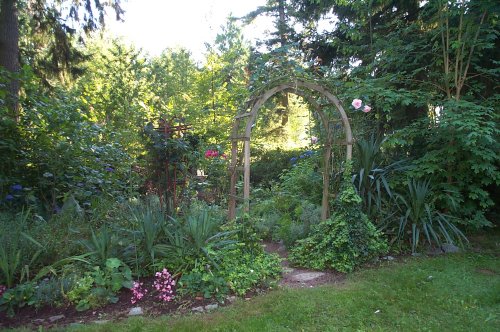 The garden trellis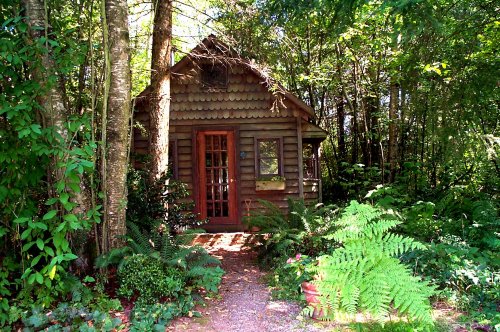 Deva's music studio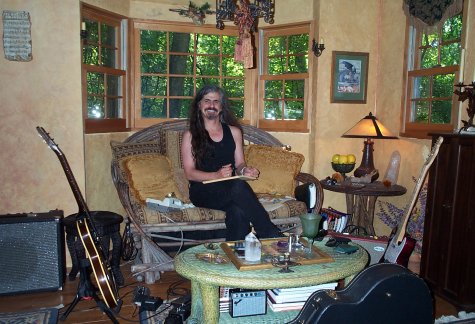 Deva in his studio
A wedding altar in the upstairs hallway, with
goblets upheld by male and female figures.
The sword of discernment that dispells illusion,
recalling Arthurian legend, stand behind.
Another sword completes a vignette in Mela's
office that includes a bowl of beaded fruit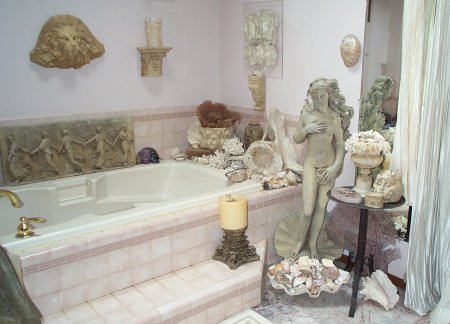 Mela's bath. Says she: "I am happy when people appreciate what I do,
but I really do these things for myself, for the joy they bring me."