On Pins and Needles
When I revised Living On The Earth, I mailed Rose and George copies of the pages in the fabric and crafts sections of the book, which they corrected according to their expertise in these fields. Visiting their home, I am happy to share their art with you, so that you can see the authority with which they speak.
Eight hair pins carved by George Wright from wood, bamboo,
and mastodon ivory. I bought the one on the far right in 1975.
The little rattlesnake in the center has a face with eyes
and diamond shapes carved into his back.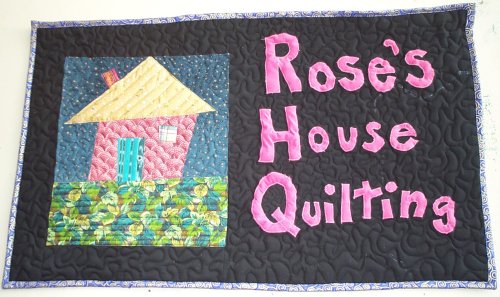 The quilted sign outside Rose's studio. She makes and sells quilts on commission, but derives
most of her income quilting patchworks created by others on a long arm quilting machine.
Rose at work on a quilt made by a community member. She also teaches quilting and
restores antique quilts. She taught clothing design for eleven years at Maui Community College,
designed costumes for the Maui Community Theater, and made wedding gowns for
a gown rental company on Maui, and recently completed her Masters in Art with a
thesis that included many of the quilts shown below.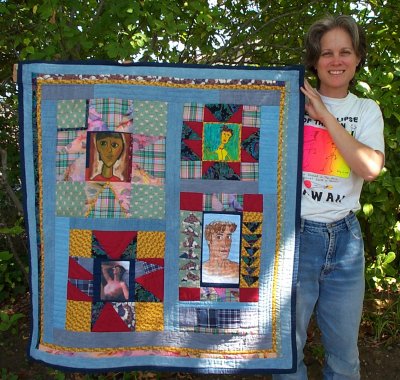 Star Sampler, a set of four self-portraits in star-shaped frames.
Rose's quilts are machine-pieced, machine-appliqued and machine-quilted,
and made of commercial, hand-dyed, and hand-painted fabrics, including
photo transfer, disperse-dye transfer on polyester, dye pastels, and oil sticks.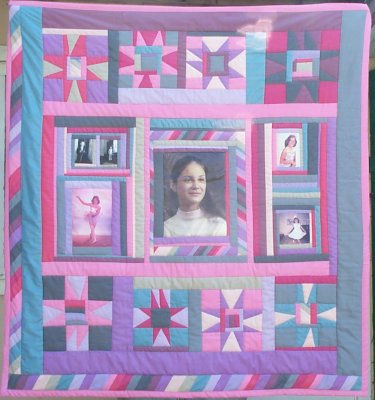 Wanting to Please, inwhich childhood photographs of the artist
transferred onto fabric are framed by the patchwork design
Fractured in Red, another of Rose's series of self-portraits,
which she says is about the disorientation of moving to a new home.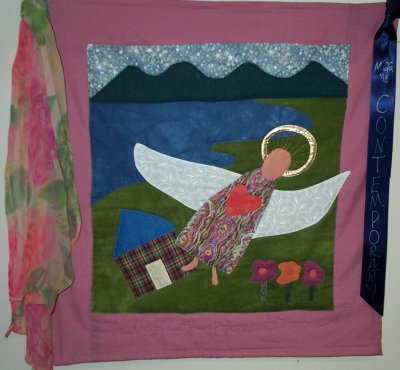 Angel of Hopes and Dreams
Rose says this was her wish talisman for a new home in the Northwest,
and, I say, therefore to blame for the disorientation of Fractured in Red.
She seems pretty happy with her new home now.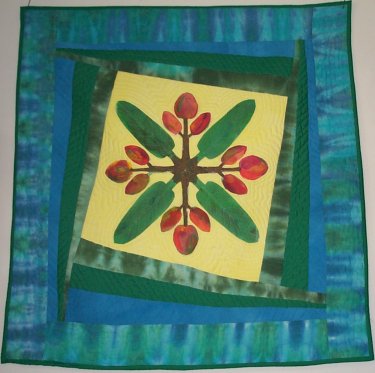 Vitality, from the Mango Series
Inner Strength, another from the Mango Series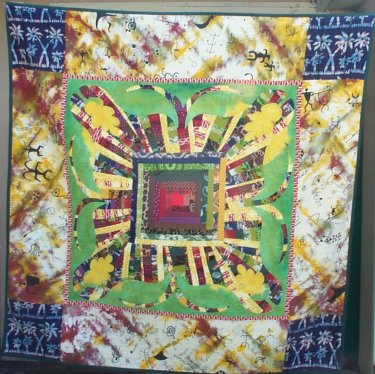 Charm to Protect Against Rock Fever
("rock fever" is a local slang term from Hawaii, meaning
a desire to get off the island and do something else)
Rest Stop on the Wheel of Fortune
The borders, a classic Hawaiian quilting pattern representing
papaya fruit and leaves, enclose two traditional American quilt patterns,
Mariner's Compass and Flying Geese.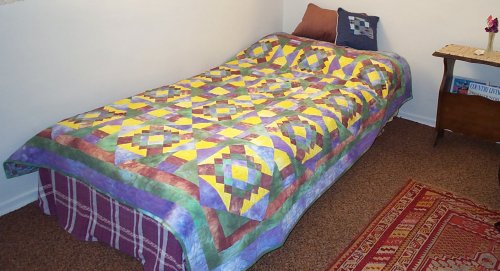 I slept under one of Rose's new quilts in her guest room.