About ten years ago, when I was creating weddings in Maui, I met Yvonne Saunders, who had moved from her native London to Vancouver, B.C. a few years earlier with her floral preservation business, Petals and Lace. I shipped a number of bouquets to her for preservation over the years, and, when she visited Maui, I drove her to the top of Haleakala volcano, and around to see botanical gardens. She came with me to one of my weddings. We had fun. She invited me to visit her in Vancouver. Naturally, when I began planning my tour, I contacted her to see whether the northwestern turn of my orbit would coincide with a good time for a house guest. It did.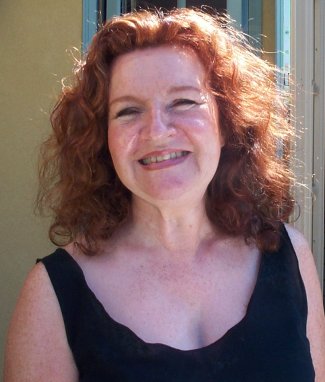 Yvonne Saunders
Vancouver recalls the San Francisco Bay area, with its bridges over inland waterways, magnificent public parks, creative stores, variety of ethnic and gourmet restaurants, huge university, and early twentieth century buildings among the modern skyscrapers. Even so, I never lost consciousness that I was in another country, with British spellings of words, different money, different traffic codes. Subtle, but palpable, and agreeable.
Yvonne's other lifelong artistic passion, designing and building fantasy homes, found most recent expression in the creation of Villa Felicita, a Tuscan style villa overlooking the ocean in West Vancouver, where she lives, runs Petals and Lace, coordinates garden weddings and rents the property for other events including fashion photo shoots. All of her choices, from the mustard-colored stucco, the variety of clay roof tiles, the rotunda, the frescoes, the curved iron balconies, and the interior tiled floors derive from her study of homes in Tuscany. Now she's ready to sell it and start on another house in another style.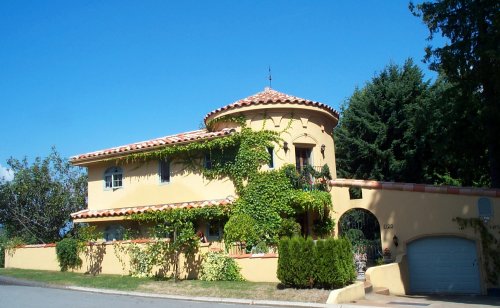 Villa Felicita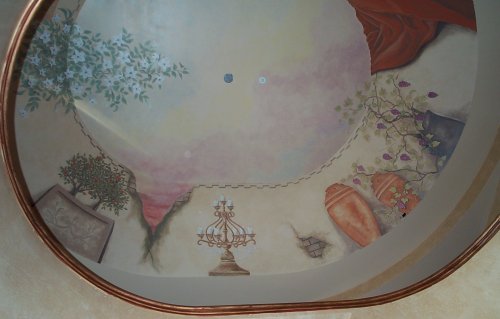 Frescoes on the ceiling of the rotunda painted by her daughter-in-law.
The artist's husband, Yvonne's son, was the general contractor for the building.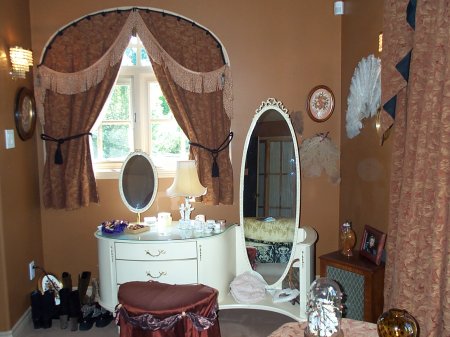 Yvonne brought this unusual old vanity table from England.
She loves earth tones, and they figure heavily in her clothing and decor.
At the Petals and Lace, Yvonne and her staff carefully disassemble wedding bouquets, press the flowers or preserve them three-dimensionally, and reassemble them in the design of the original bouquet on velvet or satin backgrounds in elegant frames. Princess Diana commissioned some of Yvonne's pieces.
The Petals and Lace workshop
Wedding gown and veil from the 1920's in
the Petals and Lace workshop
The parasol, shoes and wedding trousseau for the 1920's wedding gown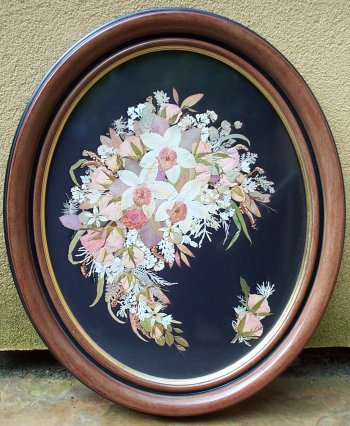 Framed, pressed bouquet and boutonniere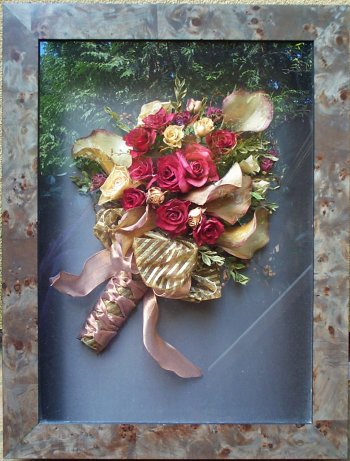 Preserved nosegay in a shadow box,
trees reflected in the glass
Yvonne loves jazz and jazz artists. She collects lampshades made by Judy Warchuk, a vocalist from Los Angeles.
Judy Warchuk's floral beaded lampshade.
Her business name is Wally's Folly.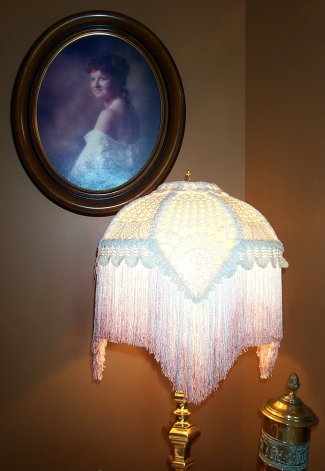 White beaded lampshade
Leopard skin print/paisley print lampshade in Yvonne's oval living room
We're both night owls, and were awake listening to music when her daughter called at 2 AM from North Vancouver. She wondered whether we saw what she was seeing. We ran outside. The whole sky pulsated with immense streaks of lights that flashed and evaporated: The aurora borealis! We stood barefoot and wide-eyed, whispering delightedly. Five shooting stars within fifteen minutes: A meteor shower and the aurora borealis on the same night--in Vancouver!