Gaia's Galleria and Tea House and Aunt Bonnie's Books
We awakened in Missoula, Montana at the home of Angela, a delightful woman with a lovely singing voice, who has risen above the effects of a stroke that devastated her nineteen years ago. Rick Gold and Nan Cohen are temporarily living at her home and helping her out, and the three of them invited Bernadette and me to spend the night. Rick and Nan prepared omlettes for all of us, and we had our brunch party in the back yard.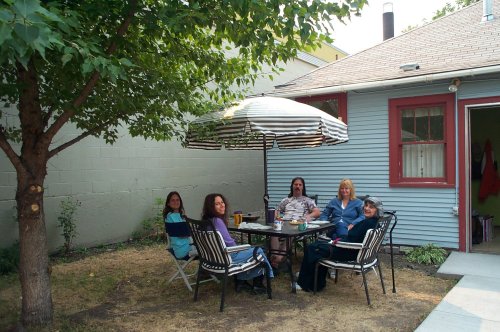 Nan and Rick lead us off on a walk around towntown Missoula. We loved the turn-of-the-century homes and public buildings, the tall trees, the Clark Fork River bisecting the town, and especially the creative small businesses along Main Street. We went into Rainbow's End, a boutique patronized primarily by Gen Y cultural creatives. Rick introduced me to the owner, Amanda Drabik. She wanted a copy of my book, and I found my perfect hat in her store, so we made a trade.
On the wall above the counter was a collection of countercultural one-liners, none of which I was prepared to affix to Crescent's behind, but, as a group, created a sort of sassy poem.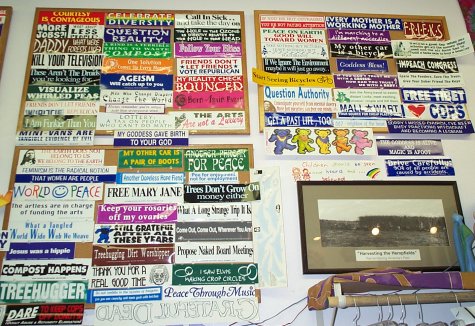 We ambled through the park along the banks of the North Clark River. A city construction project prompted a mural from the community.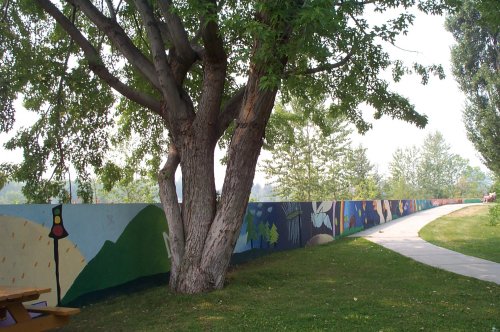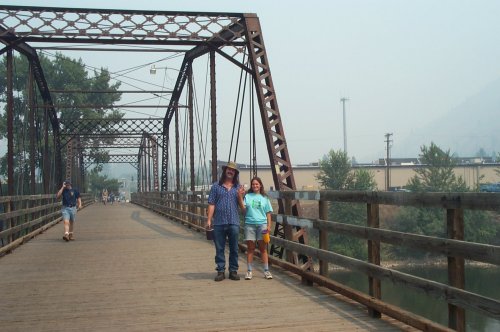 Rick and Nan on one of the many river bridges in Missoula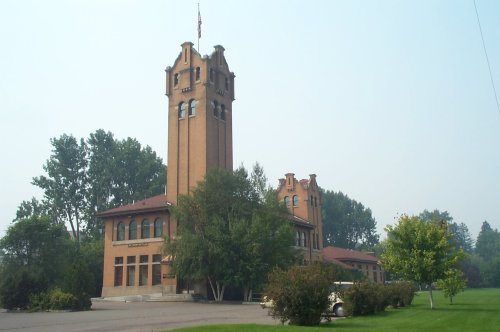 This hundred year old building once housed administrative offices of local commerce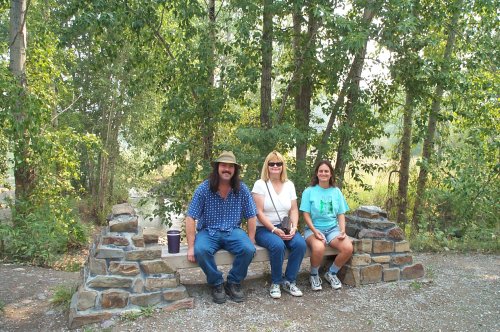 We sat in what Rick called "the Zen garden."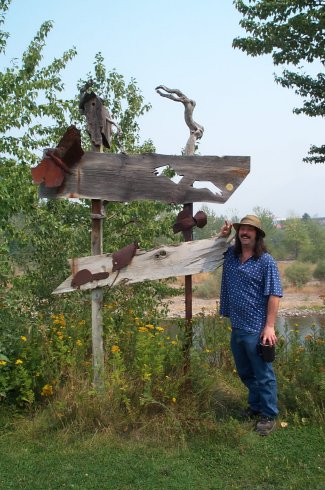 A wooden and welded sculpture celebrating local wildlife
in the riverside park
With much hugging and well-wishing, we took leave of our friends in Missoula and headed to up to Helena, the state capitol, a mere two hours drive away. The smoke this afternoon became so thick we had trouble breathing, but we did not see any actual fires. Nonetheless, the severity of the situation kept everyone who had told Sh'tarra and Sequoia they were eager to see my show at home with hoses ready. Sh'tarra and Sequoia Queen-Anaconda, married owners of Gaia's Gallery had prepared a feast for all comers; Mary, the owner of Aunt Bonnie's Books, added an announcement to her television advertising. She also made cheesecake from scratch, in honor of the recipes in Living On The Earth, a book she had owned in its original edition. There were posters posted and a phone list called. The fire prevailed. We had fun anyway.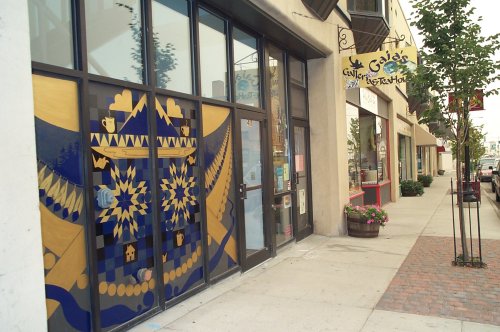 Entrance to Gaia's Galleria and Tea House...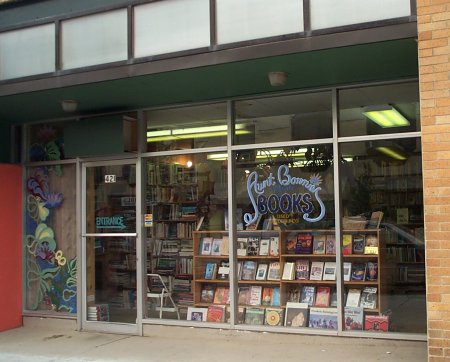 ...and, directly across the street, Aunt Bonnie's Books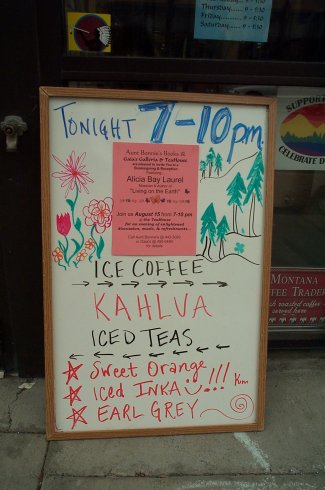 Sidewalk announcement
The spacious interior of Gaia's Galleria and Tea House, open for less than a year.
Sh'tarra and Sequoia moved from a remote piece of land an hour's drive from the nearest
town (population 1,000) into Helena (HEH-leh-nah), Montana's capital, to open a gallery where
they would sell their handmade jewelry of semiprecious stones and art made by their friends,
serve tea and healthful snacks, and create a women's community center.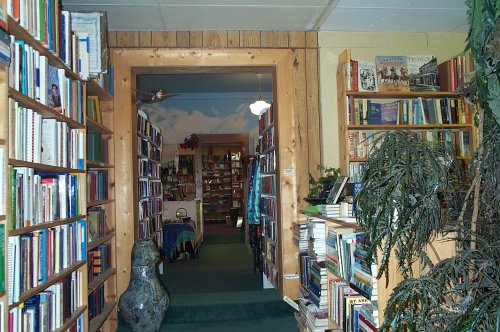 Aunt Bonnie's Books began as one small storefront twenty years ago; now it fills
three adjacent deep storefronts on historic Last Chance Gulch Street.
Sh'tarra and Sequoia Queen-Anaconda
I asked about their glorious last name.
Sh'tarra changed her birth name from King;
Sequoia had been using Anaconda (a town in Montana)
as a last name for some time.
When they married, they combined names.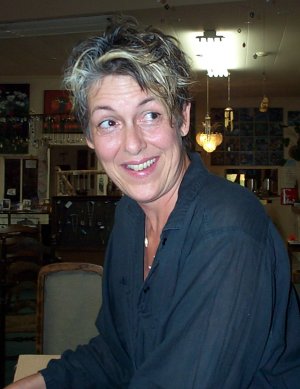 I asked Mary whether there is really an Aunt Bonnie.
She said her original logo was a sepia photograph of a
turn-of-the-century woman, but lately has substituted
a photograph of herself.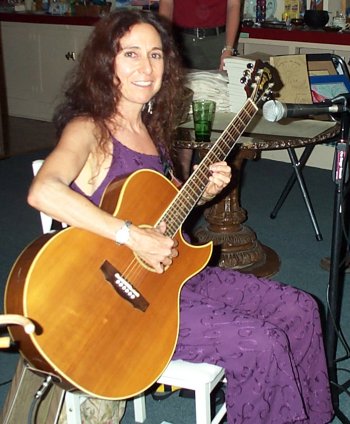 I felt happy to share my work with these wonderful women...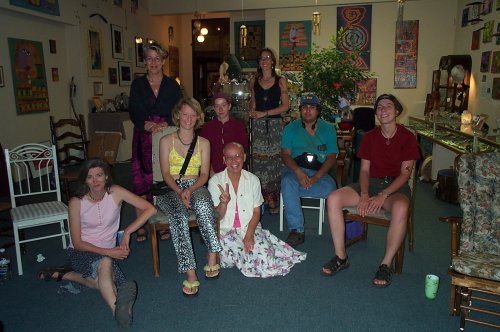 ...and they were delighted, as were the five friends who joined us for the event.