Last April, when I visited Susan Heldfond and Theo Saunders in Los Angeles, his daughter, Laria, came by one day with her wedding gown and a close friend who would be her bridesmaid in October. Catherine Shaddix teaches yoga at the Ithaca Zen Center. She bought a copy of my book, and she invited me to visit the Center on my way to the East Coast. David and Marcia Radin, the owners of the Center, had assented by email that we were welcome.
August 22, 2000. Bernie and I bid farewell to the Ho Hum Motel, but not before breakfasting at the picnic tables on the lawn in front to the sound of hundreds of tree frogs.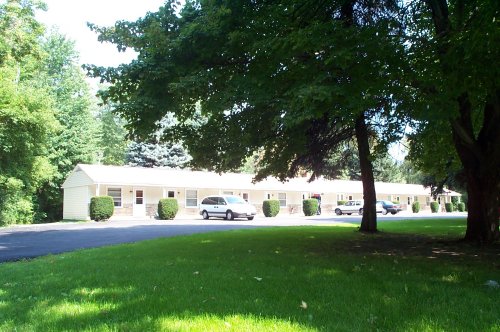 The Ho Hum Motel in Ashtabula, Ohio
On our way out of town, a collection of horse-drawn carriages demanded that Bernie turn the van around and investigate. "I've been in the antique business all my life, and I never see these for sale!" she exclaimed, dancing around them in wonder.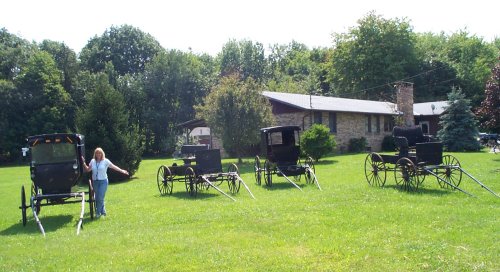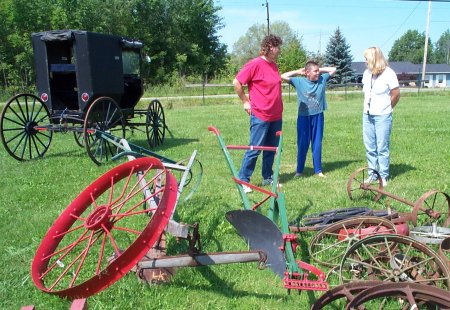 Kathy and her grandson, Warren, came out of the house to shmooze.
Carriages are plentiful in these parts because the Amish still use them.
Kathy also had a couple of old hand plows and an assortment of metal wheels.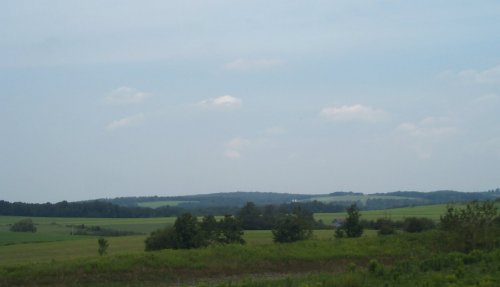 Ashtabula lies fifteen miles west of the Pennsylvania state line, and Pennsylvania is only
forty miles across at Lake Erie. Just after passing the town of Erie, we turned south
on Highway 17, and passed through the rolling hills of northwestern New York state.
We passed Lake Chautauqua...
...at the south end of which lies Jamestown, whose downtown area
contained some well-preserved Victorian buildings, but congratulates
itself most on being the birthplace of Lucille Ball. We noticed a theatre
named in her honor, and even Jo Ann's Cafe, where we lunched,
displayed a portrait of her on the wall above the refrigerator.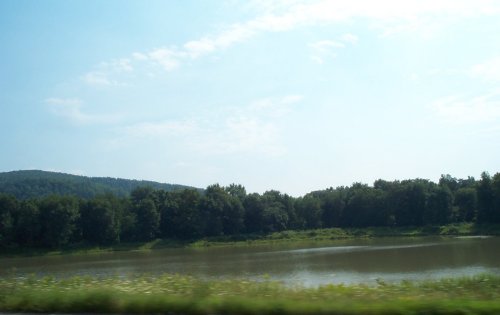 The Allegeny River parallels Highway 17 between Jamestown and Corning,
a town named for the glass cookware manufacturer headquartered there.
I wish we'd had time to stop for the Corning Museum of Glass, but
I am glad we did not miss a single moment of daylight we enjoyed at the Zen Center.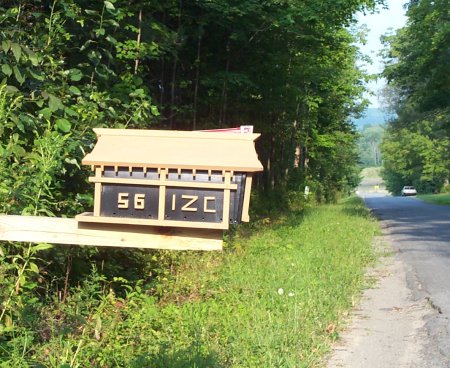 The mail box on Lieb Road of the Ithaca Zen Center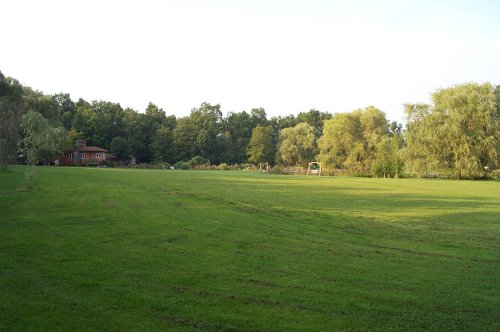 First view of the Center from the driveway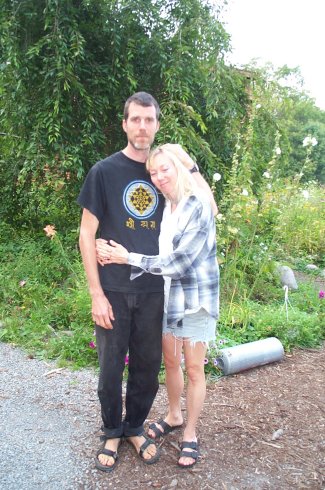 Catherine introduced us to her partner, Larry Gallagher, a long time Zen
practicioner, gifted flautist, guitarist, singer, cook and gardener blessed with a
classical education. They live at the Center as the only full time staff members.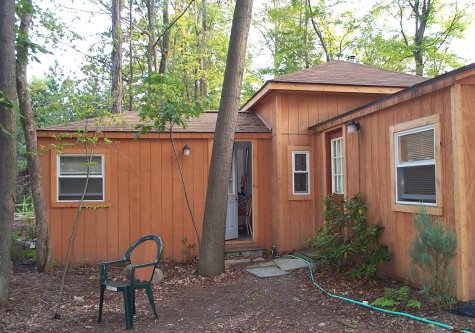 We happily unloaded our various effects into one of the cabins used by
participants in the the retreats, one of which will begin next Friday.
The Center specialized in retreats combining twice daily Zen meditation with
detoxification using a diet of raw foods, plus colonics, movement, yoga, and massage.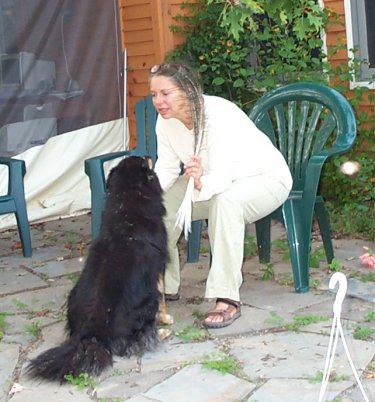 Marcia Radin's experience at Dr. Ann Wigmore's healing center
inspired her to offer raw food cleansing programs in addition to the
Zen practices taught by her husband, David, at the Center. A dancer,
Marcia also teaches cognitive kinesiology, "a series of exercises that enable
a person to safely explore the range of motion of the body."
The retreats also offer classes in raw food preparation, massage,
natural beauty care, and preventative medicine.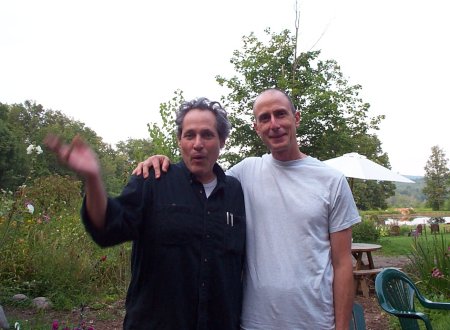 Serge Bluds (in black), a documentary film maker recently moved to Ithaca from
New York City, was visiting his buddy, David Radin, when we arrived. Serge says
he has attended a retreat, but "is not cured yet." The lot of us sat outdoors and
exchanged profound, joyous and bizarre stories until dinner time.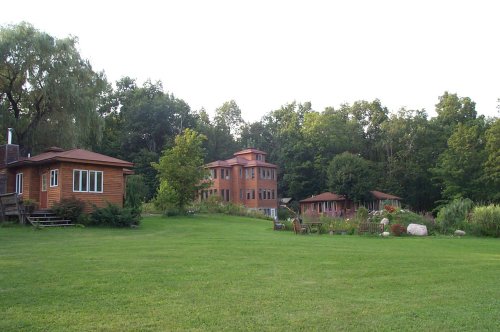 Main house and some of the guest cabins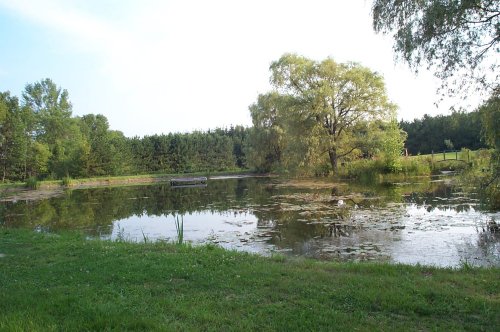 View of the pond from the wood heated sauna.
We are expected to jump in when hot from the sauna.
When Bernie looked dubious at this information,
Catherine said "You can't miss that part--it's the big thrill!"
A flower covered island in the pond, accessable by curved wooden bridge.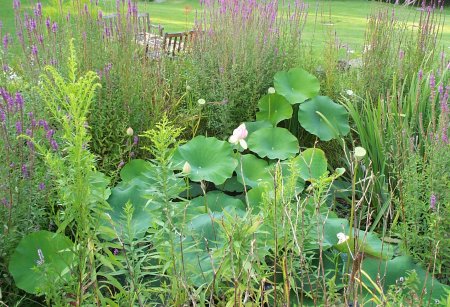 A lotus pond in the Center's garden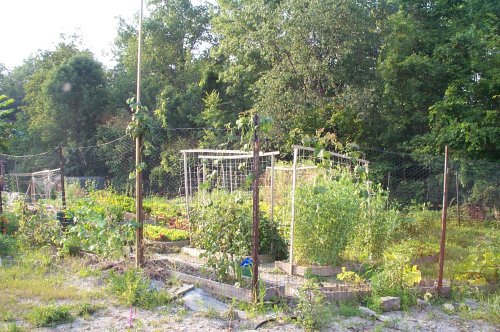 The neatly tended and abundant organic garden provides vegetables
and herbs for retreats, for residents, and for friends in the neighborhood.
Serge had come by for a renewal of his zucchini supply.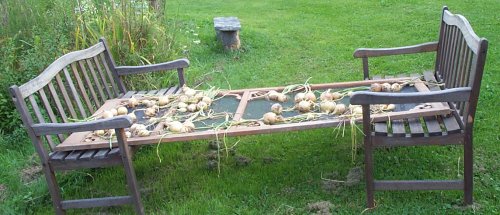 Onions drying on a screen door
Catherine gathers produce for tonight's feast.
We all found out how extremely well Larry cooks that night.
The French lentil/ginger/chipotle soup amazed me.
I was even more surprised to hear him play jazz chord melodies
and sing wonderful standards after dinner. Catherine and I
sang along, and I shared a few pieces of my own.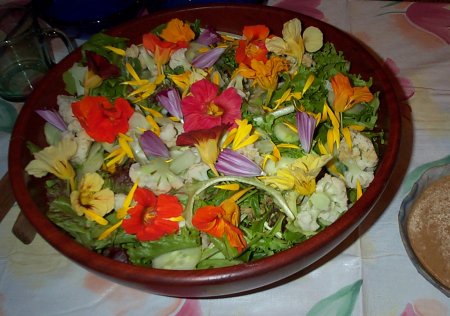 Behold the evening's green salad, made completely of Zen garden produce,
resplendant with nasturtium blossoms, and accompanied by a vinaigrette
containing fresh herbs, olive oil, garlic, and balsamic vinegar.