The New England Women's Herbal Conference
My household of eight teachers in Aldo Leopold cabin settled in on Friday: Isabelle Hadley, Jane La Force, Bevin Clare, Rita Bykhovsky, Cecelia Mitchell...all of whom you will meet later.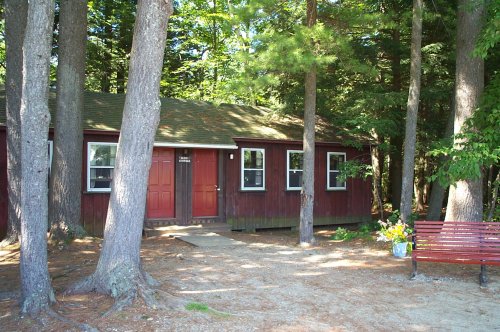 I pitched a tent outside as well, for solitude...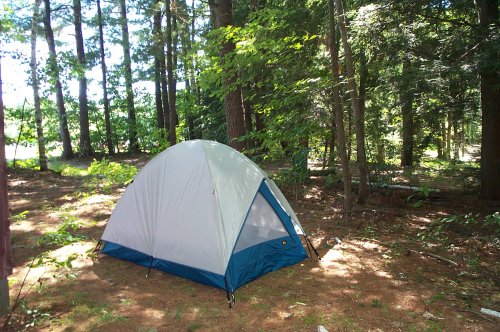 ...and hung my hand-washed clothing to dry on the line behind the cabin in the woods. Satisfied with my domestic arrangements, I set off to explore the emerging village.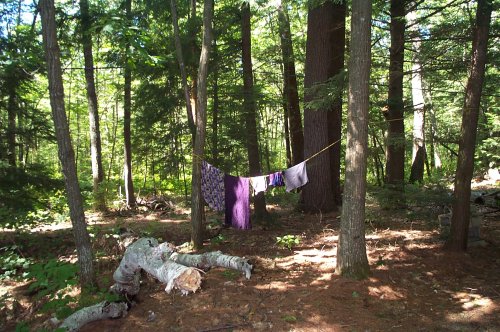 Across the meadow, larger tents housed the classrooms and the emporium where I set up my booth of books, CDs, posters, art prints and t-shirts.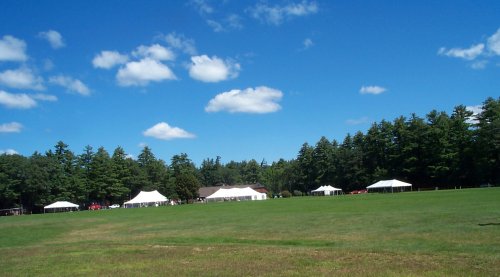 Gail Ulrich, herbalist, founder of Blazing Star Herbal School and Rosemary Gladstar's partner in creating the New England Women's Herbal Conference each year had died the previous July 23; veterans of the conference felt her absence deeply. As if that were not enough, the adult daughter of one of the teachers also transitioned into the non-physical the day before the conference. Rosemary conducted a memorial service by the lake before the conference began.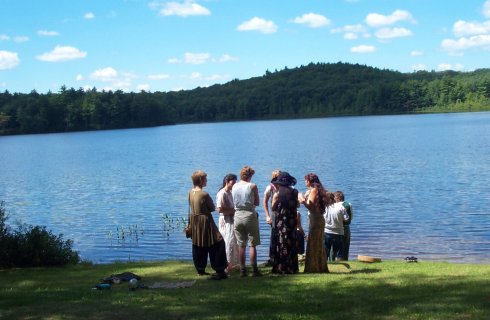 I got my first look at Juliette de Bairacli Levy at the Opening Circle ceremony. Absolutely adorable, I thought. That's Rosemary, next to her, with flowing raven tresses.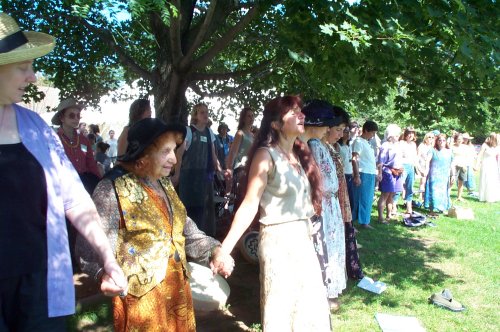 Intoning American-Indian-sounding chants is the order of the day at an herbal retreat. Amy Lohman, an expert in this type of music, lead the troops, as troops are often lead, with a drum.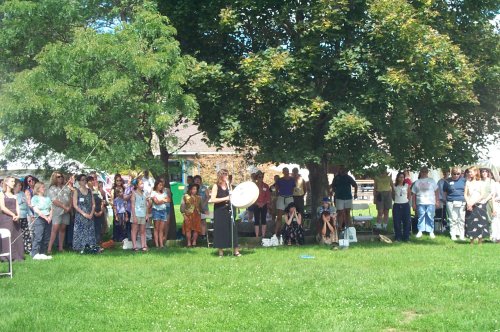 About five hundred fifty women attended the conference this year.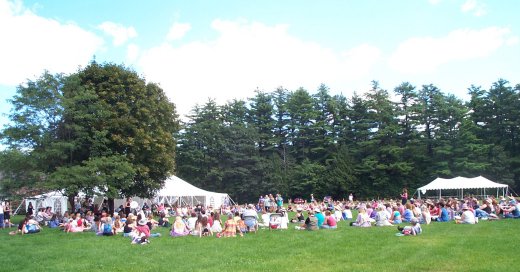 Juliette sat under a tree and addressed a crowd of admirers about bee-keeping and herbal remedies for animals. Blessed with the droll wit that accompanies a classical education in England, Juliette regaled us with stories of her Turkoman Afghan hounds, and admonished us not to steal pollen, propolis and royal jelly from the bees, who are already having a hard enough time surviving the ubiquitous panoply of insecticides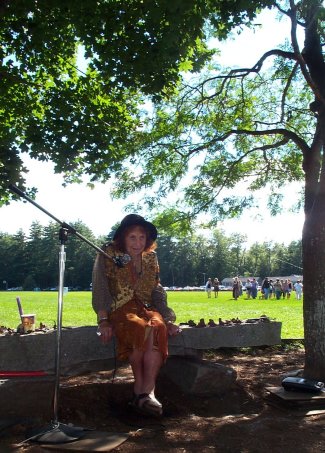 Juliette de Bairacli-Levy
I spent most of my time in the Herbal Emporium tent...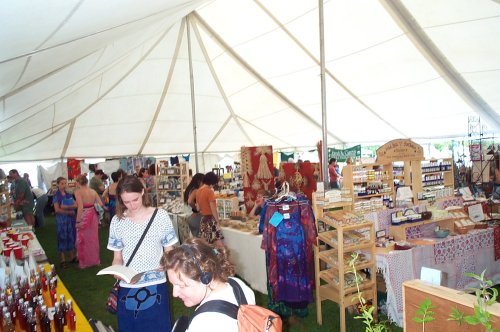 ...at the booth where I sold my art, music and writing. There I met dozens of interesting women of all ages. This one is listening to my CD through the headphones of my CD player.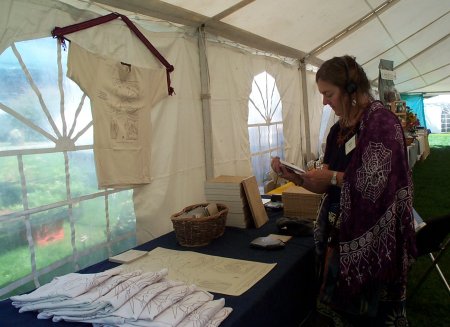 Andrea had been emailing me before the conference, and I was delighted to finally meet her and sign her copy of the original version of my book.
Andrea
Carol Joyce, my neighbor to the left, offered a line of herbal products named after the sacred woman of the Lakota Sioux--White Buffalo Herbs. She also taught classes and worked as a masseuse.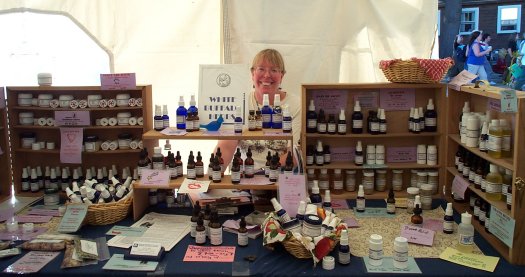 Carol Joyce of White Buffalo Herbs
On my right, Rachael Jeane Parker sold her Super Green Drink powder, to which I have become addicted. I mix it with cold water a few drops of stevia extract, although Rachael suggests taking it mixed into apple juice. Ingredients: Nettles, wheat grass, alfalfa, chlorella, barley grass, beet root, apple pectin, apple fiber, lecithin, lactobacillus acidophilus, lactobacillus bifidus, and fructooligosaccharides (food for the beneficial bacteria). You can write to her at rachaelsherbals@CS.com. Along for the weekend--her step-daughter Bonnie.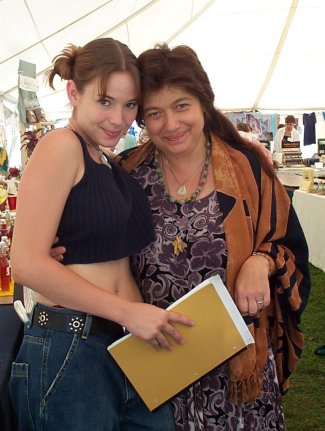 Bonnie and Rachael Jean Parker
They were not the only mother-daughter team at the conference.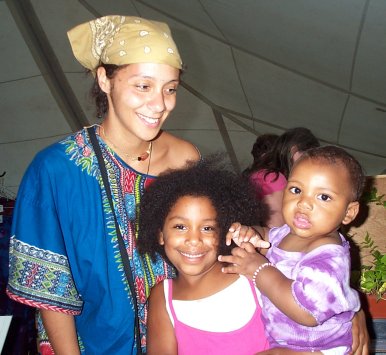 There was Ife and her daughter Nia and her nephew Kojo; Ife teaches at an
"art-centered school for children aged 3 through 10."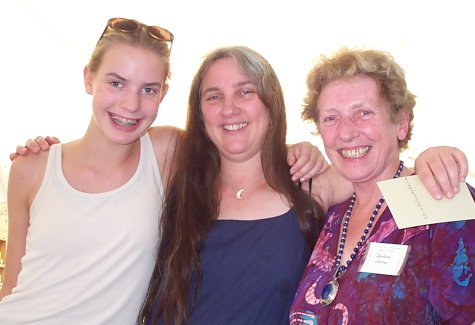 There was Jess Millar and her mom, Kiyandra;
that's Barbara Andrus on the right.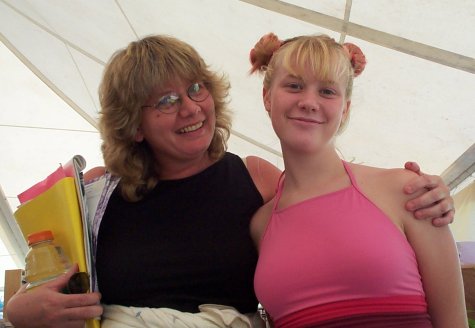 In the hub-bub of the emporium, I missed getting the names of this mom
and teenaged daughter, but, if you know them, please email me.
The conference offered a special program for teenagers called Circle Within A Circle that offered classes like Wheat Weaving, Song in My Heart (chanting with Amy Lohman), Bach Flower Essences, Herbal Remedies, Weaving on a Loom, and Aromatherapy Facials. I also discovered a staff of child care professionals who supervised the younger children during the day, including time at the beach of the lake.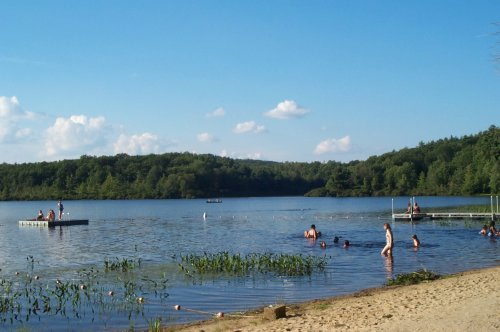 In addition to attending classes, women also could paddle canoes around the lake, partake of a Native American sweat lodge, get a massage or an herbal facial, or henna their hair or skin. Even some of the children got into the henna...

...Tory, here, is a case in point.
For movement, other than herb walks, yoga classes convened in the morning, and one afternoon, Kuumba lead an African dance class in the meadow: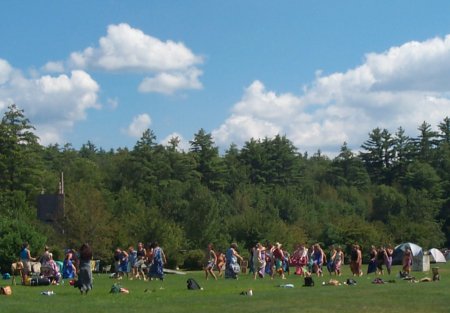 My greatest surprise and delight of the conference: meeting Lauren Sage Mairer, from Boston, writer and publisher of the 'zine And She Walks On. Lauren reprinted pages from Living On The Earth in several issues of her 'zine, which centers on pagan/herbal/goddess writings.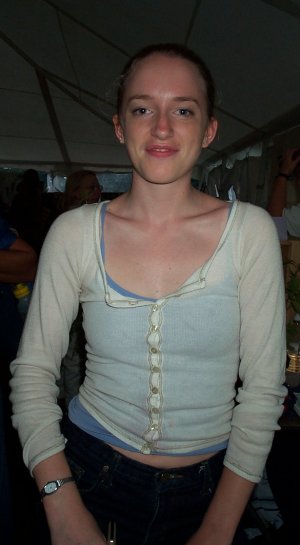 Lauren Sage Mairer
This is exactly why I chose to revise and republish Living On The Earth--I hoped it would also be of interest to another generation. I am not disappointed.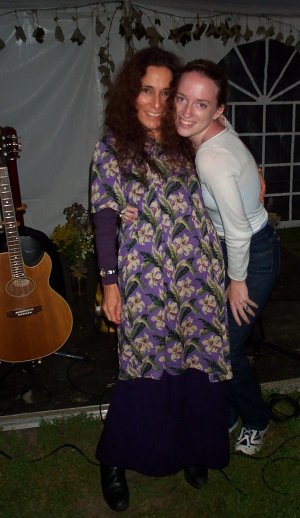 Alicia Bay Laurel and Lauren Sage Mairer
When I told the story of Living On The Earth--a book created by a girl of nineteen and twenty--I met three more young women with art and nature in the their souls. They stayed long after the story ended and talked with me about their lives. I'll never forget it.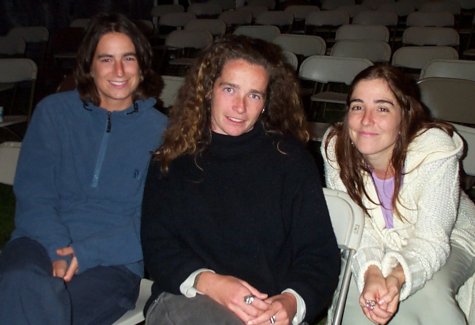 Sarah Mattow, Su Nicholson, and Carla Racinne