Ken and Karen's World
I met Ken Field and Karen Aqua at Kalani Honua, a retreat center on the Big Island, in January of 1994. Each totally enchanted me with art that breaks new ground. Ken played saxophone with Bird Songs of the Mesozoic, a quartet of composers, each from a different musical background, who are about to celebrate their twentieth anniversary with a new CD. The day of the concert at Kalani Honua, two of the players were down with the flu, and I saved the day by dosing them with Ocillococcynum, a homeopathic remedy. I also took the tickets at the door, and was gratified to learn that avant-garde music can draw a standing-room-only crowd in Pahoa, Hawaii, where trees greatly outnumber people, houses and cars. The following night I thrilled at a retrospective of Karen's hand-drawn animated films. We've been exchanging holiday cards and emails ever since. Karen made pieces for Sesame Street; Ken performed and made CDs with other ensembles and alone; they traveled extensively, both separately and together, teaching and creating new works. They are wonderful examples of artists who stay with their most creative visions while making it work financially and living amicably as partners. A lofty achievement indeed!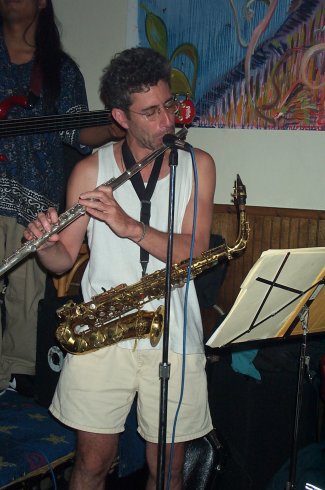 Ken Field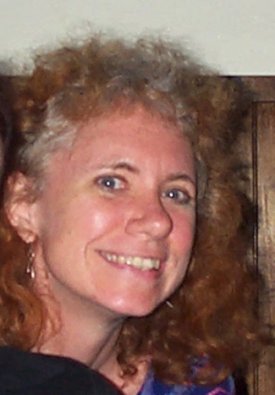 Karen Aqua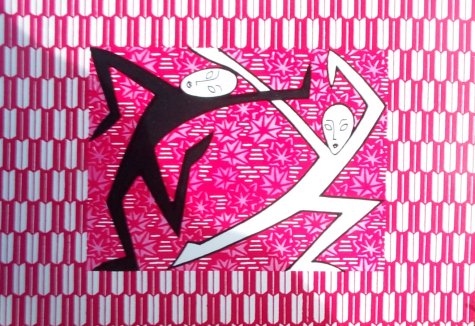 A cell from "Nine Lives", an animated film Karen completed in 1987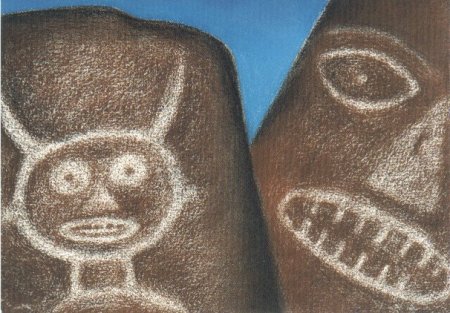 Animation cell from "Ground Zero/Sacred Ground", 1997
Their third floor walk-up in Cambridge expresses a cheerfully wacky sense of visual humor they share. It took a bit of finesse to convince the other tenants to go along with Karen's recommendation of lavender with aqua for the facade of the building, which stands in a neighborhood where many homeowners let the Historic Commission choose the exterior colors. I think it looks just right.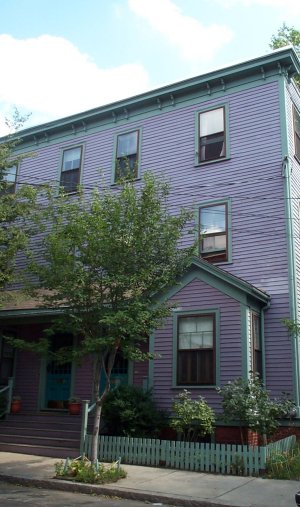 Inside their flat, the walls and ceiling blaze with the unexpected: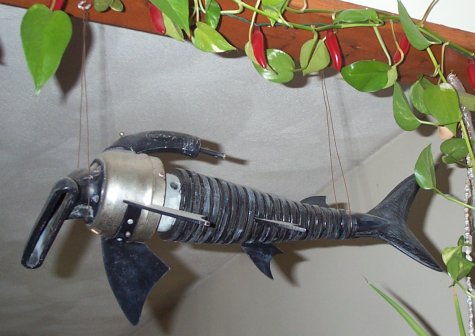 ...a hammerhead shark...

...a parade of red teapots...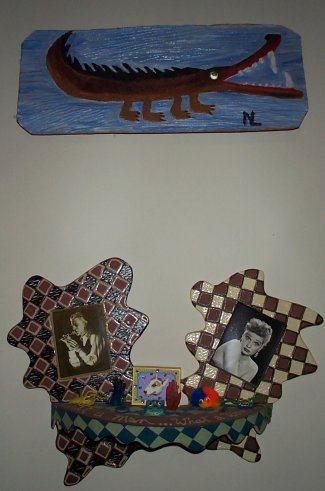 ...a cartoon altar...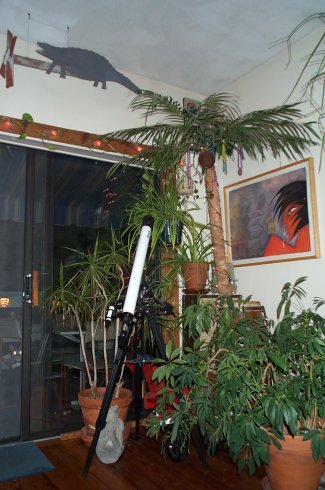 ...a jungle with a telescope and one of Karen's paintings.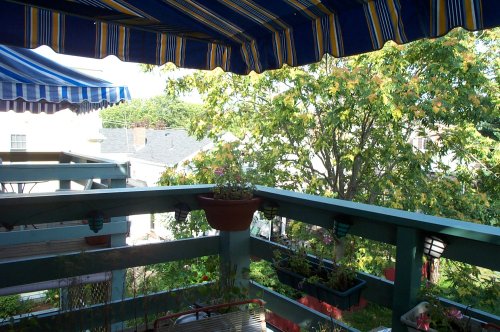 The next-door neighbor admired the awning Ken and Karen installed
over their balcony so much, she got one installed over her own.
Their place is a little small for a house guest, but, fortunately, their neighbor, scientific software designer Gerry Swislow, had plenty of space at his beautifully restored historic home, and he made me welcome for all three nights I spent in Cambridge.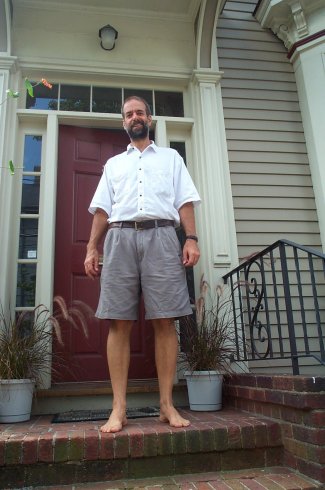 Dr. Gerry Swislow at the entrance to his home
The four of us went out for Libyan food at Baraka Cafe, a neighborhood restaurant owned by a creative and gregarious Libyan woman chef named Alia Rejeb.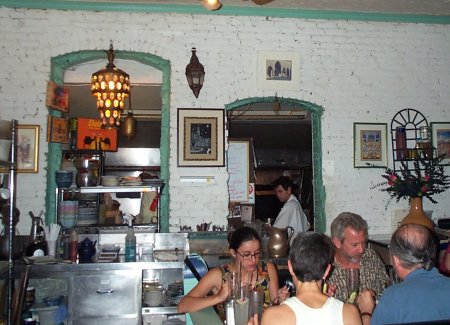 Inside the Baraka Cafe, where Libyan pop music and spices fill the air.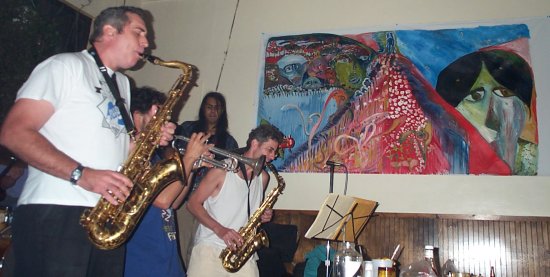 One of Ken's groups, an improvisational funk sextet called The Board of Education,
plays Thursdays at the Middle East restaurant and night club.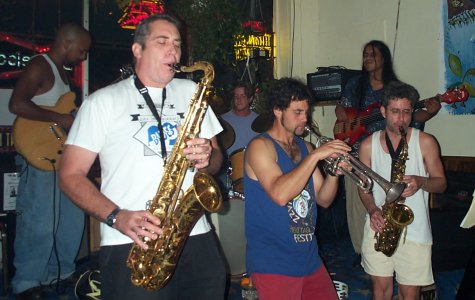 The Board of Education, left to right: Aaron Bellamy, guitar; Mark Caughill, baritone
sax; Matt Taylor, drums; Jon Fraser, trumpet; Jeff Cordero, bass; and Ken Field,
alto sax and flute. Rather than play songs, the rhythm section lays down a groove, and the
wind instruments take turns, or join together, improvising solos over it. Each groove lasts about
fifteen minutes and differs from any of the others offered that night. The crowd loved them and danced!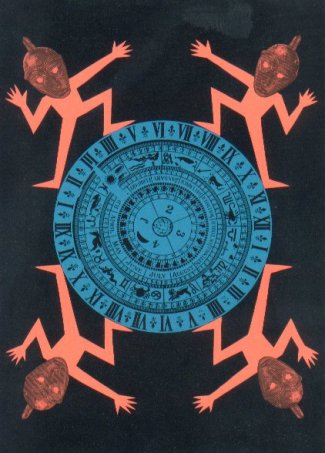 Cell from Perpetual Motion by Karen Aqua, 1992